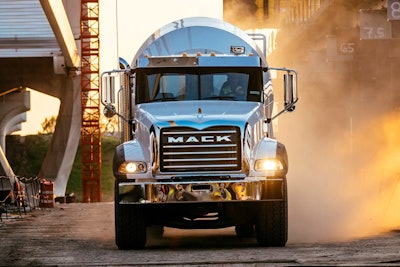 So, what do you want first, form or function?
Let's go with form.
Everybody knows how hard it is to find and retain CDL drivers. Mack's solution, shown at the World of Concrete show last week, is a lap-o-luxury styled cab with automotive-style appointments and comforts for its Granite line of vocational trucks.
It starts with a flat bottomed steering wheel, which offers a little more upper leg and belly room, especially when getting in and out of the cab, and a better view of the dash, says Tim Wrinkle, construction product manager. Bluetooth and audio system buttons can be spec'ed for the new wheel. Dashboard gauges have been rearranged for optimum visibility. No more tilting your head up or slouching down to read the speedometer. Switches have been pulled in closer to the driver—no need to stretch halfway across the cab to punch one of these. The switches are also LED-lit and laser etched so their lettering won't wear off in a few years.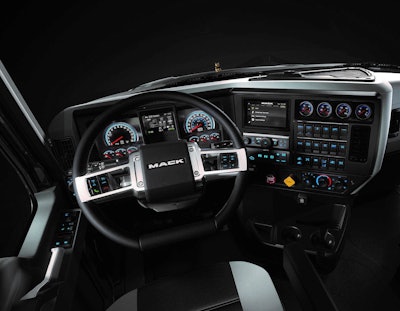 A new five-inch color Mack Co-Pilot display behind the steering wheel monitors essential vehicle functions. And a seven-inch display to the right of the steering wheel offers full infotainment capabilities with Apple Car Play, satellite radio, weather alerts, TomTom navigation and integration with third party back up camera systems.
Automatic temperature control (set-it-and-forget-it) comes standard with the HVAC. Mack engineers put the cup holders and storage bins in a new, lower console that's removable for cleaning. For your phones, tablets, laptops and ELD devices there are multiple USB charging ports and a non-slip pad atop the dash, so your devices don't slide around in turns or acceleration/deceleration.
Another nice touch: the door, when opened, shines light on the ground; a helpful safety feature, especially for drivers on unpaved construction sites.
Split-shaft PTO
On the functionality front, nothing in the trucking world requires more PTO torque than pumping wet concrete. At World of Concrete, Mack announced a new, integrated split-shaft PTO for its mDrive HD automated manual transmission that can handle the extreme demands of pushing wet concrete 30 stories into the sky.
Most traditional PTOs generate only about 400 foot-pounds of torque. But a split shaft design can crank out up to 14,000-foot pounds of torque, says Wrinkle.
The split shaft PTO is mounted in the middle of the driveline and takes its torque directly from the transmission to power concrete pumps, vacuum bodies, or high-pressure liquid transfer operations, says Wrinkle. When the split-shaft PTO is engaged, power to the axles is disengaged and this allows the transmission to start in 7th through 12th gear and shift to the desired continuous operation in 11th or 12th gear.