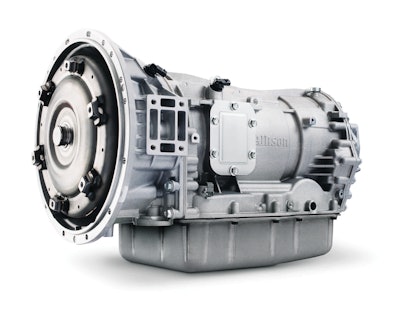 Allison Transmission announced it will release a nine-speed fully automatic transmission for medium- and heavy-duty vehicle markets around the globe by 2020, ahead of the U.S. Environmental Protection Agency and National Highway Traffic Safety Administration's Phase 2 greenhouse gas and fuel efficiency standards.
The new transmission is the successor to Allison's 2000 Series six-speed automatic transmission and uses the same interface as its predecessor. According to Randy Kirk, Allison's senior vice president of product engineering and product teams, says the new Allison 9-Speed can achieve 7 percent greater fuel efficiency than Allison's base six-speed model.
"This is the first in a number of new products we'll develop to meet the global challenge of increased fuel efficiency and reduced greenhouse gas emissions," Kirk said.
The control system builds on Allison's xFE (Extra Fuel Economy) and FuelSense 2.0 with DynActive shifting features, "incorporating learning algorithms to establish new benchmarks and finding a balance between fuel economy and performance," said Kirk.
The Allison 9-Speed features a deep first gear ratio to allow the engine to run at lower speeds sooner to improve fuel savings and a torque converter lock-up in first gear. A new engine stop-start system provides immediate transmission engagement and vehicle hold while the engine is restarted.
The new transmission is aimed specifically at Class 3-7 commercial vehicles, particularly in distribution, rental/lease and school bus segments, said Kirk.