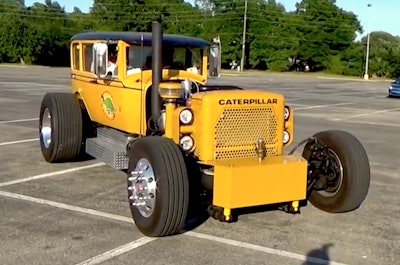 "I wanted something that was a little different," says hot rod enthusiast and builder Snapper Schomaker in a video where he explains the genesis of what he calls the Caterpillar Buggy.
The resulting hot rod definitely delivers on Schomaker's original goal of "different." When you see this vehicle rumbling toward you or even sitting still in the lot of a car show, you take notice.
So what makes a Caterpillar Buggy? Schomaker told Truck Trend he took the front end, 10-speed manual transmission, 425-horsepower Caterpillar C12 engine and a portion of the frame from a 1996 International 9200 tractor and married those components to a 1928 Studebaker Commander. He then installed the grille of a vintage Cat 966 wheel loader paired with the headlights of an old Cat 631 scraper.
If you want a thorough look at the build of the Caterpillar Buggy, you can read this great piece from Truck Trend where Schomaker gets into all the nitty gritty details. You can also check out the second video below which is a slideshow of photos of the nearly 18 month build process.