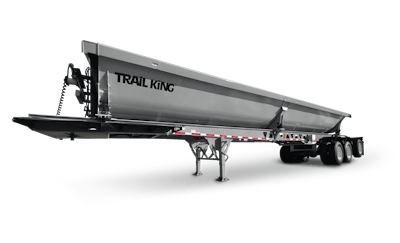 Trail King
Trail King showcased enhancements to its most popular material hauling trailers - the TKSSD Steel Side Dump trailer and TKBD Bottom Dump trailer – at ConExpo 2023.
TKSSD Steel Side Dump
Whether hauling sand, dirt, boulders, rocks or other products, the round bottom of the TKSSD ensures materials are unloaded quickly and dumped farther away.
The abrasion- and crack-resistant tub is constructed of two pieces of 6-millimeter Hardox 450 steel. For more stability and less twisting, the main frame I-beams are constructed of one-piece web and flange material. All tub pivot points are mounted on the I-beam cross members for added strength.
The two-piece rolled tub design reduces the overall weight of the trailer, while the new shape of the tub increases tub-to-truck clearance when dumping, improves cycle stability and provides better rearview visibility and component protection, Trail King says.
An additional center tub pivot makes for a smoother dumping process with no wheel hop at the end of the dump cycle while maintaining a 41-degree dump angle.
The trailer and wheels are shielded from falling debris by flexible, impact-resistant plastic rounded fenders. Improved tarp and truck fender clearance increases durability. The standard removable drop-in kingpin, greaseless bushings, remote cylinder grease lines and bolt-on parts provide simplified maintenance. The TKSSD's 5-inch bore, single-stage cylinders are mounted to the trailer using only two pins for easy removal for maintenance or replacement.
A trailer-mounted cab control kit comes standard and features consistent components between models for ease of use. Optional features include an electric tarp system, additional lights, a tarp safety switch and a pintle hitch.
TKBD Bottom Dump
The TKBD now offers increased strength and greater payload capacity at a lower weight. Its lightweight cross-bracing and gusset design minimizes twisting and flexing in critical stress areas while delivering maximum weight savings.
A spherical full oscillating fifth-wheel plate with a chrome bushed design reduces trailer stress and extends the service life of the tractor and frame, the company says.
A standard 60-gallon air reservoir enables faster operation and more capacity for the gate, while the 11-foot, 6-inch clam with overlapping knife edges ensures full closure of the gate. Continuous hopper slopes with a 54-inch by 99-inch opening enable complete dumping and less material buildup.
The heavy-duty gate stop offers fast cycle times, a more user-friendly gate limit setting, and six adjustable locations for "infinite" gate control, Trail King says.
The sloped top rail allows material to shed, reducing areas of buildup and corrosion. The one-piece unitized hopper and frame design ensure improved cleanout.
The TKBD's bolt-on fender brackets, fenders, light boxes and windrow deflector provide ease of maintenance. A bolt-on push block comes standard, or a pintle hitch is available as an option. Other optional features include electric or manual tarp systems, additional lights, an electronic gate stop and side extensions.
Quick Specs: Trail King Steel Side Dump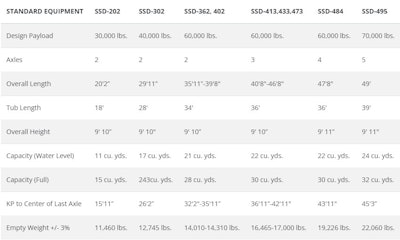 Quick Specs: Trail King Bottom Dump