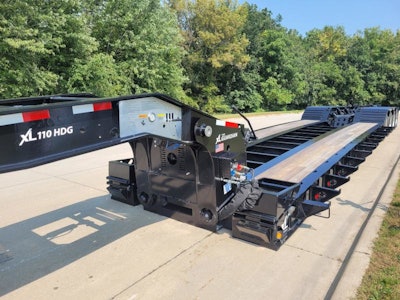 XL Specialized Trailers
Load and unload construction equipment efficiently with XL Specialized Trailers' new Guardian low-profile, hydraulic detachable gooseneck (HDG) lowboy trailer.
Rated at 110,000 pounds in 12 feet concentrated, the Guardian HDG is 53 feet long overall with a 26-foot-long by 8-foot 6-inch-wide main deck and a low 22-inch loaded deck height.
The three-axle trailer can be run by itself or with an added flip axle, a spreader bar and flip, a single-axle power booster or a hydraulic flip axle. XL's new bolt-on recessed hydraulic flip axle option houses the hydraulic cylinder. Operators can quickly flip the axle without the need for a forklift. This allows for better loading clearance over the flip axle and easy swapping between flip axles and boosters, XL says.
The gooseneck uses hydraulics to detach for loading and unloading. The trailer is available with a 13-horsepower self-contained unit or can be used with a wet kit. The deck height can be adjusted with a five-position variable ride height in the neck and manual ride height in the rear.
The low-profile design provides weight savings and versatility, XL says, allowing scrapers to load over the top. It features a relief cutout, ensuring ample clearance space for truck fenders, and two removable kingpin settings for compatibility with various truck setups.
On the side of the deck, heavy-duty swing-out outriggers add 12 inches of deck width per side. The outriggers swing to the middle of the deck, creating a strong double-outrigger point in the center of the deck. A heavy-duty front pull-out outrigger eliminates the need to stow and carry loose outriggers. Seven bent D-rings and chain drops are available per side for securing loads.
The bucket well at the rear of the main deck is made from recessed cross members. Combined with the open boom trough design in the wheel area, this design provides a solution for safely transporting excavators.
The trailer's deck is constructed with a fully welded I-beam design, using 100K flanges and 80K webs, as well as upper-flange reinforcement. A toolbox in the front comes standard. A rotating work light on the neck illuminates the area for increased safety and visibility when loading.