The new Air Bi-Fold Ramp system from Felling Trailers is designed to protect the surfaces beneath it, such as newly paved roads.
The new system is featured on the company's 25-ton FT-50-3 LP triaxle low-profile flatbed tag trailer and is designed with low-clearance machinery, such as pavers and directional drills, in mind. The system's flip ramps lock out fully when extending, which prevents scraping the ground. The controlled-flow air ramp also provides soft contact with the ground to prevent damage to new surfaces, the company says.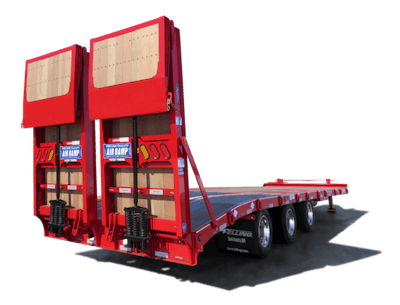 The ramps are 45 inches wide and bifold to 11 feet long and feature inlaid Apitong wood. The ramps' length and 9.5-degree load angle provide for gentler, more gradual decline and incline when unloading and loading, the company says. The ramps are powered by the tow vehicles' onboard air system, so there's no onboard electric/hydraulic system that requires maintenance, according to Felling.
The Felling Model FT-50-3 LP with Air Bi-Fold Ramps has a 26-foot main deck length and a 6-foot incline beavertail with Apitong wood decking. Other features include:
Air brakes, ABS 2S/1M, Meritor WABCO (parking brakes on all axles)
25K Ridewell oil bath axles
55-inch spread, Ridewell 240 Air Ride with dump valve suspension
Air lift axle on first axle
235/75R 17.5-inch tires on eight-bolt aluminum Alcoa Dura Brite wheels
140,000-pound twin two-speed jack with 39,000-pound lift capacity