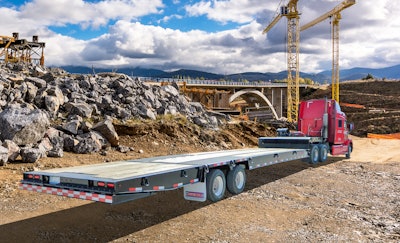 Pitts Trailers has hired Barry Freifeld as sales director for a new dedicated lowboy division, Pitts Heavy Haul. He'll oversee growth of the Pitts Heavy Haul product offering and dealer network.
Pitts Trailers, which bills itself as the world's largest and only complete line forestry trailer manufacturer, offers a wide variety of truck trailers, including logging trailers, hydraulic elevating loader carrier trailers, open and closed top chip vans and moving floors vans.
The new dedicated division Pitts Heavy Haul makes hydraulic removable neck lowboys, fixed neck lowboys, hydraulic folding tail lowboys and construction grade tag-a-long lowboys. You can see the full new lowboy product lineup at Pitts' Construction page, here.
"Not only am I extremely impressed with the outstanding products that Pitts offers, but I am also equally impressed by the quality of people that Pitts employs," Freifeld said.
He has more 20 years of sales management experience in the industrial, automotive, electronics, military and medical services market.
Most recently, he served as sales director for Trail King Industries. Before that, Freifeld worked as national sales manager for Hermes Abrasives and held sales roles at Henkel AG & Company and at Loctite Corporation.
"Barry brings a wealth of knowledge and experience to our company," says Justin Bridges, president of Pitts Trailers. "I believe these assets, combined with his passion for customer service and development, will propel our new Pitts Heavy Haul division into a lowboy industry leader."
Freifeld holds a bachelor of science degree in mechanical engineering from the New Jersey Institute of Technology. He is based in Virginia Beach, Virginia.