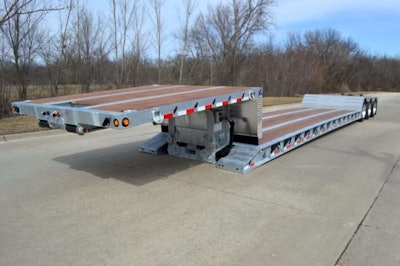 By Matt Cole
XL Specialized Trailers debuted two new lowboy trailers at the recent Mid-America Trucking Show.
One of the company's new offerings is the XL Galvanized 80 Mechanical Full-Width Gooseneck. Erin Reiff, marketing manager for XL Specialized, says the company was able to cut weight from the trailer before the hot-dip galvanizing process in order to keep the trailer's weight as low as possible at approximately 15,600 pounds base weight.
The galvanized trailer is suited for lowboy haulers who frequent areas with harsh weather and road conditions and has a lifespan of up to three times longer than standard steel, the company says.
The other trailer debuted at MATS is the new XL 110 Low-Profile Hydraulic Detachable Gooseneck, which offers a loaded deck height of just 15 inches, three inches lower than the company's previous lowboy loaded height.
The trailer's neck offers a five-position ride height, and based on neck position and load, the deck can be leveled as needed with the adjustable wheel-area ride height. The trailer maintains the same capacity as the 18-inch deck height trailers, Reiff says.