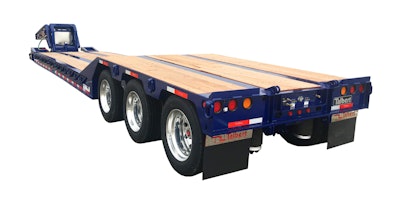 Talbert's new 55-Ton Roller Paver trailer can handle such heavy equipment as rollers, pavers, excavators and dozers.
Talbert also designed the 55CC-RP trailer with dual kingpin settings, so it can be operated empty without a permit in states with 43-foot kingpin laws. Talbert achieved this by adjusting the trailer's deck length, gooseneck radiuses and rear ramps from previous roller paver models.
The trailer's overall length is 53 feet, so no need for an overlength permit in certain states. It has a 12.5-foot rigid-load base rating, a 24-foot clear deck length in the well and 20-inch cross member spacing along with auxiliary cross members on the lower deck. It has three axles that are close-coupled, and it can accept optional pin-on axles for loads requiring four axles in a row, the company says.
Low-profile equipment can be loaded onto the 22-inch-high deck with the tapered ramps at the front of the trailer. The trailer has a 6-inch road clearance. At 41 inches, the ramps are 9 inches longer than typical trailers, the company says. Their widths can also be adjusted.
Talbert designed the rear slope to accommodate asphalt and soil rollers and provided the option of open center sections for excavator booms to reduce load height. Because of its full-width, rear-bridge fenders equipped with 1.5-inch Apitong wood, equipment can be driven over the trailer's wheels onto the bed.
The trailers are made of heavy-duty T-1 steel and corrosion-resistant Valspar R-Cure 800 paint.