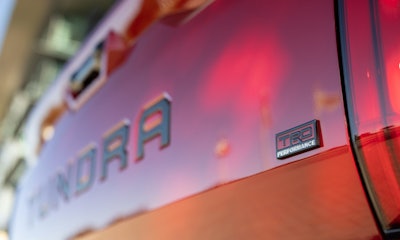 Toyota
Taking advantage of the Tundra's new twin turbocharged, i-FORCE V6 engine, Toyota is giving customers the option to boost the truck's power and torque even further with its new TRD Performance Package.
Previewed at the SEMA show and available early next year, the upgrade delivers 32 more horsepower and enhanced low-end torque.
"In factory trim, the base i-FORCE engine produces 389 peak horsepower at 5,200 rpm and 479 pound-feet of torque at 2,400 rpm," said Greg Bernas, vice president, Toyota service parts and accessories development. "The TRD Performance Package increases power output to 421 horsepower at 5,200 rpm, while peak torque comes on 400 rpm sooner, delivering 479 pound-feet of torque at 2,000 rpm, broadening the torque band and significantly improving power delivery at throttle tip in," Bernas said. "On the i-FORCE MAX Tundra, the kit boosts horsepower from 437 to 469."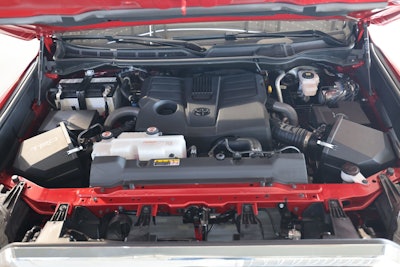 A mix of hardware and software upgrades gives the truck its extra oomph over the standard setup. Toyota gave the truck increased airflow to the turbochargers, larger, higher-flowing dual intakes and a high-flow cat-back exhaust with reduced back pressure. The truck requires 91 octane premium fuel to achieve the promised performance. Toyota says the throttle tuning "complements the increased powertrain performance resulting in a sporty and powerful driving feel."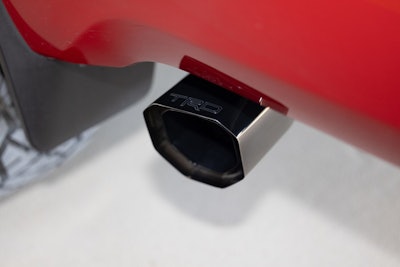 Beyond more muscle, the TRD Performance Package includes special badging on the tailgate and exhaust tip. But what passersby will really notice is "the sound of the turbochargers spooling up and the menacing exhaust note," Toyota says.
"We wanted to build on the excitement of the new Tundra platform and the twin-turbo engine — which already makes monster horsepower and torque — to develop this performance package," said Jakin Wilson, senior engineering manager, Toyota Motor North America.
The TRD Performance Package is backed by a full factory warranty. The kit can be rolled up into the vehicle financing and will set you back an additional $3,400 on top of the purchase price.
Toyota says the TRD Performance Package will initially be offered on new Tundras. The manufacturer is considering expanding the package to other models soon, while also working to offer a dealer-installed option for current Tundra owners.