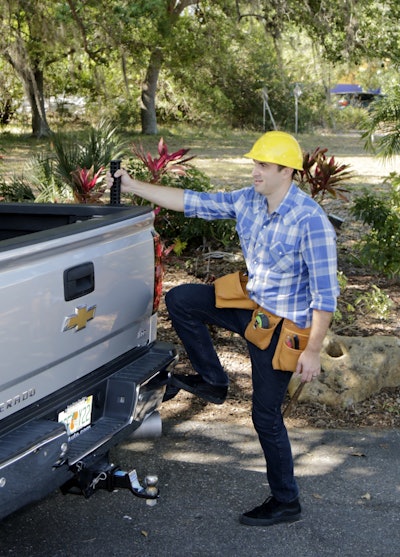 Everybody has trouble getting in and out of their pickup truck beds. Truck and aftermarket manufacturers have come up will all sorts of clever step-up devices and unfolding tailgate sections. But the Step-N-Secure pickup truck bed handle (which doubles as a tie-down post) is certainly the least expensive option we've seen.
Step-N-Secure is made of reinforced polypropylene for corrosion resistance and durability. Customers should specify the truck make when ordering: The kit comes with a corrosion resistant lag bolt that ensures secured cargo cannot lift the handle at high speed. Drilling of one 1/4-inch hole may be required inside the box on some truck beds.
If you're up on your safety standards you'll notice that the Step-N-Secure makes it easy to establish the "three-points of contact" heavy equipment OEMs recommended for access to any piece of yellow iron. Not a bad rule to follow for trucks either. And did I mention slips and falls are one of the leading causes of construction worker injuries?
Retail price is about $30. For more info go to StepNSecure.com.