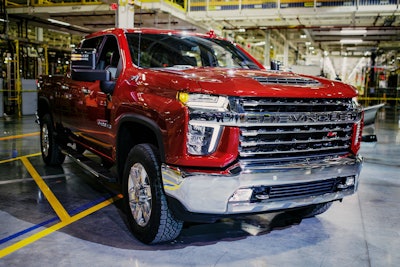 At an event held inside the newly renovated body shop at General Motors' Flint Assembly Plant in Michigan Tuesday, Chevrolet introduced the media to its redesigned, all-new heavy duty pickup truck lineup for 2020.
In addition to getting to see the new trucks up close, Chevy also revealed upgrades to the truck that have pushed it to the top of the HD segment's ongoing struggle for best-in-class towing with an eye-popping 52 percent increase in max towing capacity.
Chevy's 2020 2500HD and 3500HD will be offered with the 6.6-liter Duramax diesel first introduced in 2016, with that engine still delivering 445 horsepower and 910 lb.ft. of torque. And while that massive torque number has fallen behind the latest Power Stroke engine from Ford and the 1,000 lb.ft. output by the new 6.7L Cummins turbo diesel on Ram's HD lineup, Chevy has still figured out a way to top Ram's towing numbers: a new 10-speed Allison transmission.
"Yes some other manufacturers offer more torque," said Jaclyn McQuaid, chief engineer for GM's next generation heavy duty trucks. "But that's academic if you can't put all of that torque to the ground."
New transmission, fully upgraded driveline
The major element to Chevy's big HD towing increase is the new 10-speed Allison transmission mated to that 6.6L Duramax—a duo that can now pull up to 35,500 pounds. That's 400 pounds more than the 2019 Ram 3500 equipped with the 6.7L Cummins.
Ford's new 6.7-liter Power Stroke pushes out 450 hp and 935 lb.-ft. of torque, though the company hasn't revealed towing figures for the 2020 Super Duty trucks.
"We will be the only company where every diesel dually will tow more than 30,000 pounds," McQuaid adds of GM's new truck lineup, which also includes the recently revealed 2020 GMC Sierra HD models.
Aiding the new transmission in the towing increase are upgrades to every component between it and the wheels, including larger front and rear axles, locking rear differential, prop shaft and u-joint, McQuaid says.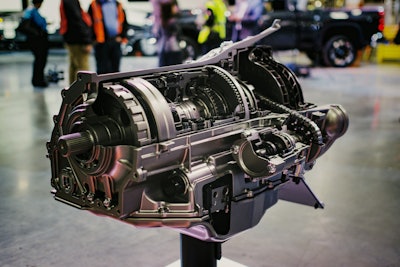 GM has also beefed up the chassis and suspension of its HD trucks, the automaker says. The new frame is "heavier duty" than the one found on current gen trucks in order to handle the heavier loads, including a higher gross combined vehicle weight rating (GCVWR) of up to 43,500 pounds.
With all of the upgrades, McQuaid says 2020 Chevy HD trucks will deliver all 910 lb.ft. of torque to the pavement in the first gear. The transmission is also capable of first gear lockup with all 910 lb. ft.
"That really saves on the heat," says David Ames, assistant chief engineer on the trucks. "And part of getting to the 35,500 mark is getting rid of the heat when you're there."
Ames said apart from smoother shifting, another improved aspect of driving these trucks the new transmission brings comes when using the 6.6L Duramax's exhaust braking on steep grades.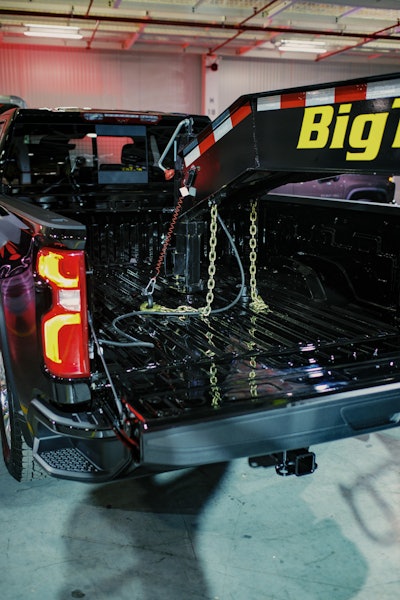 Exhaust braking, which uses downshifting and air in the engine to slow the wheels of the truck, is already an invaluable feature on any diesel-powered truck tasked with heavy haul jobs. With the new 10-speed, Ames says it has gotten even better.
"With the larger steps (between speeds) it can make it where you downshift and now the engine revs are high and you have a lot of exhaust brake, but now it's too much. So you start slowing down and you upshift and now you don't have enough exhaust brake," Ames says of the difficulty that can be found in attempting to dial in the right amount of exhaust braking. "Once you get into 10 speeds you can really start using that to get the right amount of braking based on the traffic around you and not feel like you have to constantly be tapping the brakes or going into…so it really allows you to control it better."
New 6.6L gas V8
Along with the updated Duramax powertrain, Chevy is also introducing a new gas V8 engine option for the 2020 HD trucks.
GM says the new 6.6L V8 is the first direct-injected gas engine to be offered in the HD segment. Mike Kociba, assistant chief engineer for small block engines, said the focus in the development of this new engine was delivering higher power and higher torque with sustained durability.
Kociba says the gas V8 will only be offered with the six-speed transmission and is aimed at HD customers who want the convenience of gas (i.e. not having to deal with DEF) with some of the towing capability of a diesel.
Thanks to the direct injection, Kociba said GM engineers were able to "increase the compression ratio to unparalleled levels for the heavy duty market." Specifically, a ratio of 10.8:1, resulting in an output of 401 horsepower.
And thanks to a longer stroke than the previous 6.0L V8 had, the new 6.6L ups torque by 22 percent to 464 lb.ft.
For 2020, a Silverado 2500HD equipped with the gas V8 will have a max towing capacity of 17,400 pounds, an 18-percent increase.
Additionally, Chevy is offering a variable oil pump on this engine, which is a first for GM in this segment.
6.6L Duramax improvements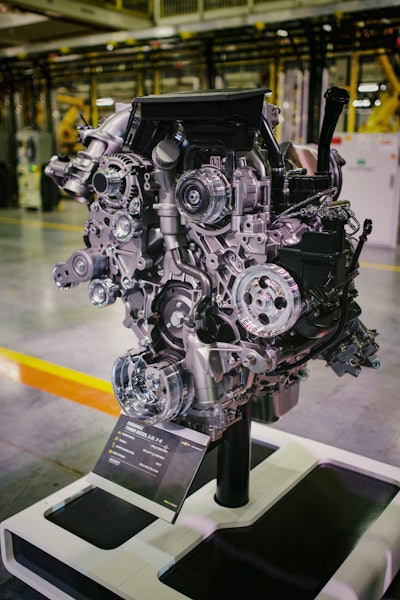 Though its output numbers haven't changed, GM has introduced a few improvements to its 6.6L Duramax diesel with the 2020 HD trucks.
First up are a few updates to improve diesel cooling:
Larger hood vent and larger grille design than previous HD models brings in more air to the engine.
New, larger 28-inch cooling fan
Engine after run: Walk away while your truck idles for up to 15 minutes to allow engine to cool down.
GM has also made a couple improvements to make dealing with DEF a little easier:
New DEF tank position: DEF tank now tucked inside frame rail.
Filler now located inside fuel filler door
Added a DEF gauge