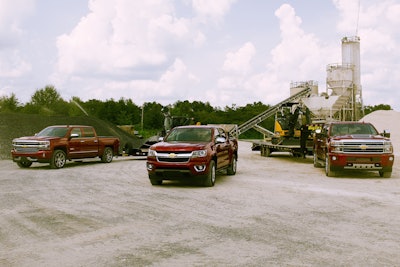 Think back to your last truck purchase. What was the deciding factor? Was it the interior? The options on the trim level? The sweet deal you scored?
What about payload and towing capacities? When was the last time you bought a truck based on those numbers, which, along with the explosive improvements in diesel powertrains, have done nothing but grow in the last decade?
In other words, when was the last time you thought about right sizing your pickup? It's probably something that occurs more to fleet owners, both of the pickup and vocational truck variety.
But with the resurgence of midsize pickups in the last few years, it's worth the time of all truck buyers to at least broach the subject. And what better way to discuss right-sizing than by hauling heavy equipment around using nearly an entire pickup truck lineup to determine the real world pros and cons of each truck?
With a lot of help from the fine folks at Chevrolet we've done just that.
The drive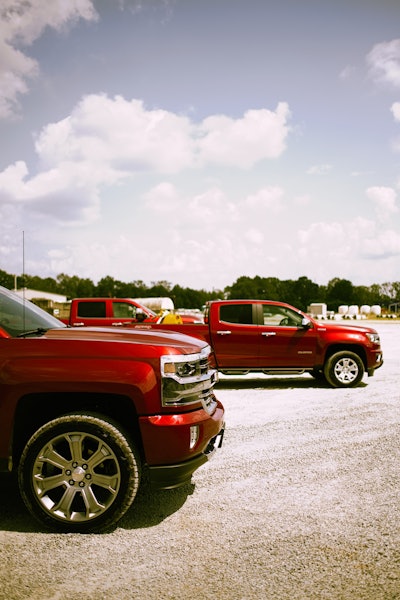 For our right-sizing comparison drives, I traveled to Albany, Georgia, where I met up with Chevy Vehicle Performance Manager Brent Deep at John Deere dealer Flint Equipment. At the dealership I was greeted by a couple of Deere machines for hauling and a Chevy Colorado, Silverado 1500 and a Silverado 2500HD, each from the 2018 model year. I spent the next couple of days driving stretches of highway in and around Albany hauling that equipment around to get a feel for each truck's towing capabilities.
To do this we attempted to pair each truck with a machine, or, in the Colorado's case, an attachment, that would tax the truck while still leaving breathing room between the load and the trucks' max capacity. In the end, each load, when factoring in the weight of the trailer, averages out to be about 2/3 capacity, giving us a good idea how each truck handles a greater than average towing task.
A note before we get into what we towed with each truck: Two of our three test trucks were diesel powered: the Colorado LT, with the 2.8-liter Duramax, and the Silverado 2500HD High Country, outfitted with a 6.6L Duramax. The Silverado 1500 High Country we tested was equipped with a 5.7L V8.
Here are the tow pairings:
2018 Colorado LT Diesel:
Towing capacity: 7,600 lbs.
Hauling capacity: 1,504 lbs.
Deere excavator bucket, once in bed and once on a trailer
2018 Silverado 1500 High Country:
Towing capacity: 9,100 lbs.
Hauling capacity: 2,120 lbs.
Deere compact track loader
2018 Silverado 2500 High Country Diesel:
Towing capacity – conventional: 13,000 lbs.
Towing capacity – 5th wheel: 14,800 lbs.
Hauling capacity: 2,513 lbs.
Deere compact excavator
The route
These test towing runs were a roughly 45-minute to one hour out-and-back route on a fairly flat section of Georgia Highway 19. The route allowed me to get a feel for how each truck handled entering and exiting traffic, accelerating, passing and making a sharp turn for the return trip under load. Here's how each truck did.
Hauling a CTL with the Silverado 1500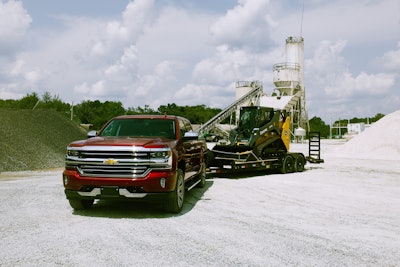 Our first test run was with the only V8 of the bunch, inside a 2018 Silverado 1500 High Country. In tow was a Deere 317G compact track loader atop a Big Tex trailer. This was going to be an interesting drive because this particular load would pose a serious challenge to the 1500's towing capabilities with a weight at or near the truck's max capacity.
Before we set out, Deep and I walked through a through towing safety checklist. As we pulled out of the Flint Equipment parking lot, we dialed in our trailer gain on the dedicated panel located on the upper left hand side of the steering wheel.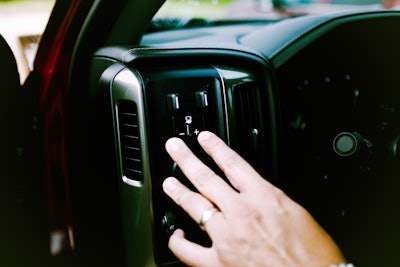 At speeds of between 10 and 20 miles per hour, I tapped the brakes to feel both the tug and the push generated by the CTL and trailer as I depressed and let go of the brake pedal. Beyond trying to avoid giving yourself mild whiplash every time you hit the brakes, Deep says taking time to dial in the proper trailer gain is also key in preserving your trucks brakes and preventing an accident.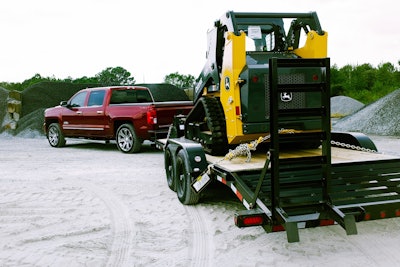 "Having a good balance between trailer brakes and vehicle brakes saves on brake life and makes for a more harmonious ride," he says. "But also, if you start overtaxing those trailer brakes you can go through replacement with them more often or fail them completely."
Finding the right gain is as simple as finding the setting where, as Deep put it, "the tail doesn't wag the dog," too much.
Once our gain was dialed in we turned out of the Flint parking lot and accelerated into traffic and across an overpass before taking an entrance ramp onto the highway. The V8 performed admirably in getting us onto the highway, gaining speed from a standstill without any lurching or indication that the engine might be struggling with the machine in tow.
And because we were on a fairly tame stretch of two-lane highway, the above was emblematic of the majority of the drive. The V8-powered Silverado had no problem whatsoever changing lanes, passing or getting back to speed after a stoplight. It offered seriously impressive performance when considering the disadvantage you'd assume this truck would be at with the weight in tow and the amount of available torque.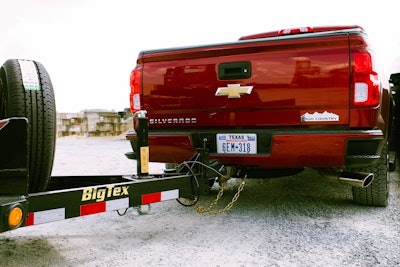 The disadvantage to towing large loads that near this truck's max capacity isn't found in the truck's pulling power. It's in the discomfort you encounter while driving the truck on anything but open highway.
It gives you a quick but thorough understanding of "white knuckling," a reference to the color the tops of your hands turn when you're gripping the steering wheel with all your might as you attempt to slow or bring all this weight to a stop without plowing into the back of the car that just slammed on its brakes in front of you; or just trying not to destroy your own brakes in heavy traffic.
Driving the V8 1500 with a large load in tow worked but it didn't feel very good. It's not something I would recommend you do over a long distance and certainly not something you'd want to do with great frequency. A diesel feature missing from this truck that would go a long way in adding confidence and comfort is exhaust braking, which was equipped on the two diesel-powered pickups we tested. The V8 does have manual downshift engine braking, which if you aren't already taking advantage of when you tow and haul, you should be. But that extra stopping power afforded by exhaust braking is worth more than gold in heavy haul applications.
The 1500 I drove was a 2018 model. For 2019, Chevy has introduced a 3L Duramax diesel as an available option. I'd love to have another go at this test with that engine equipped just to see the difference exhaust braking would make for this truck. Based on my drives with the Duramax-equipped 2500 and Colorado I drove, I'd wager a diesel will make the 1500 feel like a totally different truck.
Towing a compact excavator with the Silverado 2500HD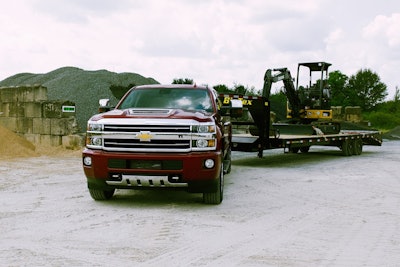 During a media event I attended last year, a Chevy engineer hopped into the passenger seat of the Silverado 2500HD I was about to test drive and said, "Get ready. This is the sports car."
Chevy folks are very fond of the 2500, and for good reason. If affords such a high amount of comfort, power, acceleration and just overall good feelings that it can be a hard truck to park and walk away from at times.
With 445 horsepower at 2,850 rpm and 910 lb.-ft. of torque at 1,600 rpm provided by the 6.6L Duramax, this truck and its big brother the 3500, are the models built specifically for towing and hauling. But every time I drive this truck, including this latest towing excursion, I come away thinking not only how great it is for pulling stuff, but also, "I wish I could drive everywhere in this truck."
For this test run, we hitched up a Big Tex gooseneck trailer toting a Deere compact excavator. After our safety checks and dialing in the tow gain we pulled out of the dealership lot, entered traffic on the overpass and made an easy left turn onto the entrance ramp for the highway.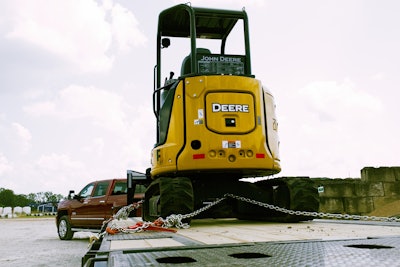 The 6.6L Duramax purred as I pushed the accelerator toward the floor, reaching 60 miles per hour with a satisfying amount of ease.
For several minutes we cruised at around 65 miles per hour, nothing but open highway in front of us. As Deep and I talked about the truck's development and huge capability, we approached some traffic ahead. The truck's power makes it easy to forget that you're hauling anything at all, and once those vehicles appeared over the horizon, the thought of needed stopping distance reminded me that there was still an excavator along for the ride.
My grip tightened at this realization, an after effect of driving the 1500 for an hour. But with a manual downshift to the low gear, the engine braking kicked in slowing the trucks momentum. As we neared the stopped traffic, that's when the exhaust braking, which we enabled before setting off, did its part, quickly bringing the trick to a crawl much sooner than a foot smashing the brake pedal could.
"With exhaust braking, you have a locked torque converter at a higher rate of speed. We lock it, shut off all fuel to the engine and now, because you're coasting, you have the momentum of the rear wheels turning. Torque is coming from the wheels and they're turning the transmission, which turns the engine," Deep said after asking if I was ready for a "nerdy" explanation of what just happened. "The engine is still pumping air now, but no fuel. And when you shift down and change the gear ratio on the transmission, in that downshift you create a higher rev of the engine which means it's having to pump even more air and it slows down more which in turn slows the rear wheels down and decelerates the vehicle."
Deep says apart from added comfort and confidence while towing, exhaust braking can also save considerable wear and tear on your trailer and truck brakes. "If you set the exhaust brake at the right point, you should never have to touch the brakes," he says.
Driving the diesel-powered 2500 after the V8 1500 drove home this point even further: if you're going to be towing big payloads often, make the extra investment in a truck with a diesel engine. Yes, the extra torque is nice, but the real dividends come in the extra stopping power afforded by exhaust braking.
My biggest takeaway from the 2500 drive was that this truck offers a whole lot of balance. It's got SUV cab room and comfort, a ton of towing and stopping power and an intoxicating amount of capability. Opting for a 2500 means never having to worry about your truck's ability to get a job done.
Hauling an excavator bucket with the Colorado
Prior to this drive I had very little experience with the Colorado and none whatsoever with hauling or towing in this truck. That coupled with the fact that this particular Colorado was equipped with a 2.8L Duramax diesel had me very interested to see how this would turn out.
We did two out and backs with the Colorado, one with an excavator bucket in the bed, and another with that same bucket atop a trailer in tow.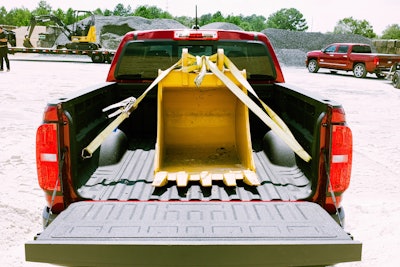 Both drives went smoothly and were remarkably similar despite one involving a trailer. I'm not sure if it's the ample size of the Colorado (Yes, it's midsize. But it's not a small truck by any means.) or the extra capability afforded by the diesel engine, but pulling around a trailer with this truck is a breeze. And while the bucket/ bucket and trailer didn't push the truck to its limits, the Colorado's capability made easy work of the load given it. Just like can happen in the larger trucks in the Chevy lineup, it's easy to forget you're pulling a trailer at times.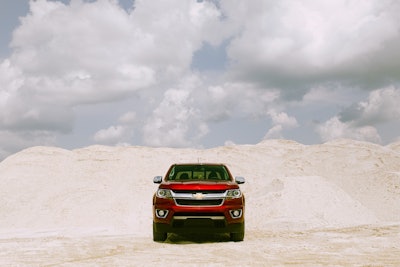 Like the 2500, the experience was made more comfortable by the exhaust braking provided by the diesel engine. Unlike the 2500, the exhaust brake on the Colorado cannot be turned off as it's integrated into the truck's tow/haul mode.
Based on this drive, I'd urge smaller contractors, tradespeople and landscapers to give the Duramax-equipped Colorado a very close look when it comes time to buying a new truck. While it does lack some of the comfort and the truck-like feel you light be used to with half-ton trucks and larger, if you only plan on pulling smaller equipment or a boat here and there, it's more than up to the task.
How to choose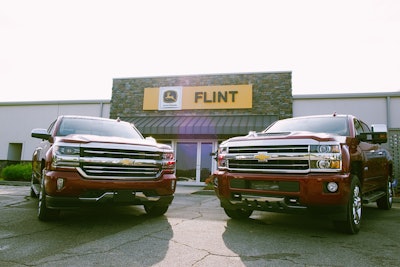 Though most of the answers to the question of how to choose the right pickup size for your line of work, are found in the drive descriptions above, here's a quick review.
I didn't leave this triple test drive with many conclusions that I wasn't expecting to have at the outset. I'd say the biggest surprise is how well the Silverado 1500 did with the load we threw at it. I'm really anxious to get behind the wheel of a diesel-powered 1500 once they launch next year.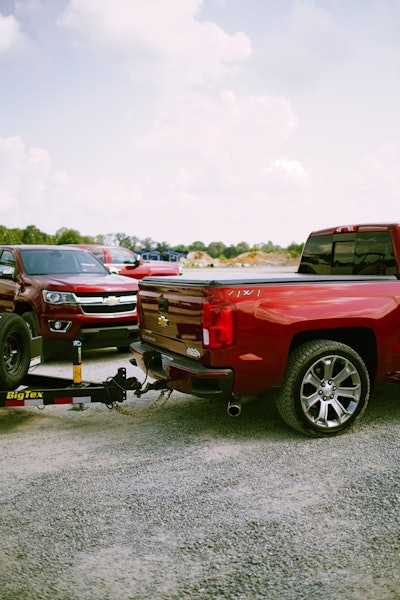 If you're a contractor who needs the assurance that your truck can handle anything you throw at it, go with the 2500. Like I said, not exactly an earth-shattering conclusion.
If you're in construction and tow infrequently, save a bit of money and go with the 1500. Based on this towing experience, I feel like a lot of contractors out there might be surprised with what they can get away with on a 1500. And Chevy's addition of the 3L Duramax option on the 2019 1500 will make the truck even more worth looking into.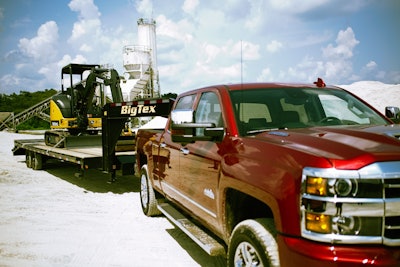 And if you're a tradesperson or a landscaper, the Colorado could be a perfect fit for your needs if you don't care about having a larger truck for comfort or aren't worried about the potential need for extra capability down the road.
Deep is even more confident in the Colorado's capability, though he says your comfort in that truck while towing will depend largely on how often you tow.
"If you tow very infrequently, taking a Colorado all the way up to its max trailering capacity three or four times a year is perfectly acceptable," he says. "But if you're on a budget and this is all the vehicle you can afford, you can tow the max every day. The vehicle will live. The vehicle will actually do very well in those settings. But you have to ask yourself how well and how quickly do you want to be able to pull out into traffic?"
In other words, Deep says, additional trailering ability delivers additional comfort.