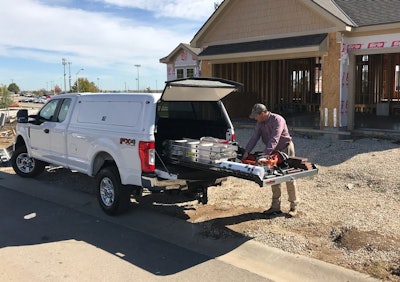 Traditional truck tool boxes can only hold a handful of tools but put a cover over the bed and rig it with one of these LoadMaster sliding tray cargo systems, shown at SEMA this year, and you can carry and secure a full array of tools and components for just about any trade or craft.
Mounted much like a cabinet drawer on heavy duty slide rails, your equipment can be reached easily at ground level without having to climb into the bed of the truck.
The company offers several versions of its system. The LoadMaster Composite (CP) bed system is a lightweight, all-fiberglass sliding tray with a spray on bed liner. It holds up to 1,000 pounds with the drill installation and 800 pounds with the no-drill installation. It is available for full-size pickups with 5 ½, 6 ½, and 8-foot truck beds.
The newest addition to the lineup is the LoadMaster Standard Duty (SD), that rides on a 3 ½ inch steel tube side rails and front bulkhead. The rugged commercial design features a powder-coated steel frame and tracks and a dual latching system to hold the tray in the locked position when closed. It also holds 1,000 pounds in the drilled installation and 800 pounds in the no-drill installation and fits into 5 ½, 6 ½, and 8-foot full size truck beds and 5 and 6-foot compact truck beds.
The reinforced track system on the LoadMaster Heavy Duty (HD) holds up to 1,200 pounds and features a diamond steel tread deck coated in spray-on bed liner material. It also slides on a 3 ½ inch steel tube side rails and offers a dual latching system. It is sized to fit its full size trucks with 5 ½-foot, 6 ½-foot and 8-foot beds.
Additional models feature Full Extension slides (FE), Extreme Slide Rails (XT) and Dual Slide Rails (DS).