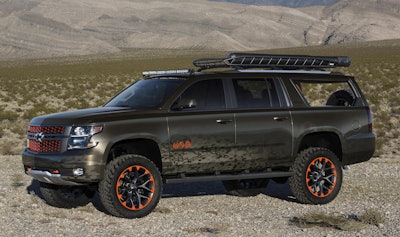 Chevrolet again kicked off the big SEMA car and truck aftermarket show in Las Vegas Monday night with the unveiling of a celebrity-designed concept truck, this time a Suburban designed by country music star Luke Bryan that might just be a dream vehicle for a lot of hunters and fishers out there.
These celebrity concept trucks always feel a bit gimmicky upon first glance. But every year Chevy does one and every year I listen to Kid Rock or Luke Bryan talk about why they built the truck they did, and damn it if I don't always end up kind of loving the result.
Chevy and Bryan unveiled this concept Suburban during a pre-SEMA media reception at the Westgate Hotel. From the front it just looks like a Suburban with big tires a lift kit, but once you get around to the back you see what makes this truck special.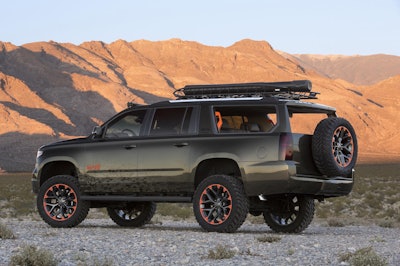 Bryan and Chevy took out both of the SUV's side rear windows and the hatch window. Plus, they took the third row seat, turned it around and placed it right up against the back of the second row seat. The end result is a Suburban that looks a bit like a Silverado with a rear seating arrangement similar to a one you might find on a UTV.
Bryan explained that the design was based on a custom Suburban he already owns.
"I kind of built a truck like this myself, but I didn't have all the Chevy bells and whistles at my disposal," Bryan said at the event. "In my regular pickup truck at the house, I would load my boys up and go hunting and fishing. And I have three boys at the house and they would invite four of their buddies and I would look at the backseat of the truck and I've got all these boys packed up and I said, 'I need a bigger vehicle.'"
So Bryan went and bought a Suburban for these family hunting trips.
"I took those early ideas and then got to unleash all those ideas on Chevrolet and what an amazing experience."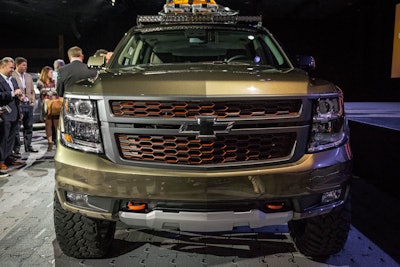 The truck, which is painted "Hunter Bronze with Dark Carbon accents and camp graphics" rides on 22-inch Chevy wheels wrapped in 35-inch-tall off-road tires. Bryan also added a 6-inch lift kit.
"Anytime you get to add a great lift kit and big mud tires to any Chevy truck it always makes you feel a little better," Bryan said.
Up top, the truck is adorned with an equipment carrier with a fishing rod holder and a Baja lightbar.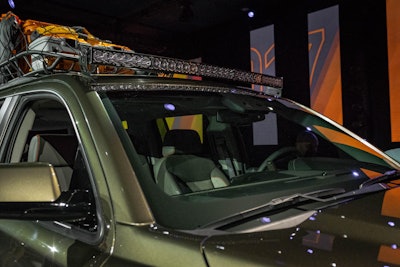 "When you get done deer hunting in the evening and you're picking everybody in the deer stand, you can flip the lightbar on and see some deer out there wherever you weren't able to find them," Bryan said.
The interior of the truck is a two-tone olive color with orange and Dark Carbon accents.
The truck is powered by a 5.3-liter V8 engine with a cold-air intake system delivering 355 horsepower and 383 lb.-ft. of torque. The Suburban has also been fitted with a Chevrolet Performance front six-piston Brembo brake upgrade.
Bryan and Chevy hinted at the possibility that a package like this could become a real production vehicle.
"Hopefully this isn't the finish," Bryan said. "Hopefully some of my old crazy ideas will make it all the way through one day (to production)."