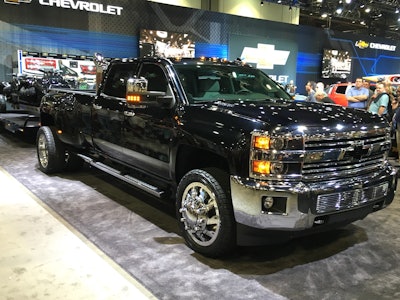 It's doubtful many construction contractors would want to tie their reputation and brand to a formerly-rappin' redneck rockstar, but that didn't deter Chevrolet from commissioning Kid Rock to help design a custom truck.
As it turns out, the Kid, or Rock, or whatever he's called, did a pretty good job. It's one of the better-looking trucks on the floor of SEMA this year—subtle and patriotic in a sea of over the top extravaganzas.
The base model for the Kid Rock Custom is a 2016 Silverado 3500 HD dually. It's powered by a 6.8 liter, V8 Duramax turbo diesel engine with an Allison transmission.
During a video Chevy showed after the truck's unveiling, Kid Rock, who is from Detroit, said he wanted to make the truck "cool but still within reach of the American worker." The seat backs carry a "Made in Detroit" logo featuring the silhouette of a worker.
The custom black paint treatment is what sets this truck apart, with subdued, black and white American flag graphics on the doors and bedsides. Like I say, patriotic without being in your face about it. The interior is upholstered in gray leather with "metallic-appearing inserts patterned after acid-wash jeans." (Who knows?)
Oversize custom exhaust stacks shoot up out of the truck bed. Aggressive, all-terrain tires sit on 22-inch wheels. Mods and bling were held to a respectable level.
The tailgate handle was relocated to the inside to keep the look clean in the rear. Oversize bow tie badges adorn the front and back. And the designers threw in a few touches of chrome on places like the front bumper recovery hooks exhaust pipes, and the custom side steps underneath bed quarter panel.
And to celebrate Kid Rock's restraint on this design, here's his latest video featuring a lot Kid Rock driving around in a slightly older Chevy truck.