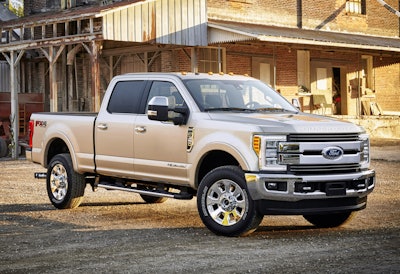 Though the 2017 Super Duty has won just about every award and piece of critical acclaim a pickup can win this year, the last half of 2016 has proven a bit rocky for Ford with the automaker issuing numerous costly recalls amid the already-pricey launch of the next-generation heavy duty pickup.
Compounding these troubles is news that venerable reviews publication Consumer Reports has dropped its recommendation of the F-150 due to "declining reliability."
Ford's latest recall affects the 2017 Super Duty as 8,000 of these pickups are being called in to be inspected for a missing fuel tank strap reinforcement. Dealers will inspect for the presence of a reinforcement bracket on the No. 3 crossmember at the front fuel tank strap attachment location. If no reinforcement bracket is found, the dealer will install one at no cost to the customer.
In the affected vehicles, over time, a missing reinforcement could lead to a fuel tank strap separating from the frame, Ford says, resulting in the fuel tank moving out of position and potentially contacting the ground, increasing the risk of a fuel leak. A fuel leak in the presence of an ignition source may increase the risk of fire.
Ford is not aware of any fires, accidents or injuries associated with this issue.
Affected vehicles include certain 2017 Ford Super Duty trucks built at Kentucky Truck Plant, Aug. 10, 2016 to Sept. 17, 2016.
There are approximately 8,069 vehicles affected, including 7,103 in the United States, 964 in Canada and two in federalized territories. The Ford reference number for this recall is 16S45.
It's the second recall to affect the 2017 Super Duty since the new truck lineup launched this fall. In October, Ford recalled 180 2017 Super Duty pickups to replace the adhesive-mounted protective shield on the fuel conditioning module with a bolt-on metallic protective shield. Also in October, Ford announced a $600 million loss due to a massive 2.4 million-vehicle recall over faulty door latches. F-Series trucks were not affected by that recall.
With that loss and the high cost of re-tooling its Kentucky truck plant for the Super Duty launch, Ford announced a drop in income of 56 percent in the third quarter along with a $2.2 billion drop in revenue.
F-150 no longer recommended by Consumer Reports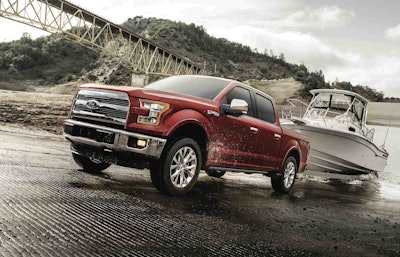 In Consumer Reports December edition, Ford's F-150 reliability rating dropped to the point that the iconic pickup is "no longer recommended."
We reached out to Ford for comment on the non-profit research group's annual auto reliability report, which covers more than 300 vehicle models. The F-150 is one of 11 vehicles that ended up this year on Consumer Report's 'No longer recommended' list owed to declining reliability, the magazine reports. F-150 was the only truck on the list.
''We remain absolutely committed to continuous improvement by listening to customer feedback and anticipating their wants and needs. We are rapidly implementing solutions that will help us reach best-in-class levels in quality, initial reliability and long-term durability," Ford spokesman Deeptie Sethie said.
"With nearly 40 years of truck leadership, Ford is continuing its relentless pace of innovation to make America's best-selling truck even better – including the addition of class-leading features and technologies such as lane keeping and active-park assist systems, 360 degree camera systems, as well as an all-new 3.5-liter EcoBoost engine with segment-exclusive 10-speed automatic transmission for improved fuel economy, performance and refinement.''
Other Ford vehicles that took a hit include the Ford Focus, which the magazine ranks as the least reliable compact car, and the Ford Fiesta, which came in as the least reliable subcompact.
Consumer Reports annual reliability ratings are based on road-test scores; predicted reliability and owner-satisfaction data from its Annual Auto Survey; and independent safety testing.
"Consumer Reports surveys our magazine and website subscribers each year to ask about any serious problems they've had with their vehicles in the preceding 12 months," the magazine reports on its website. "The latest large-scale survey collected detailed data on more half a million vehicles, giving us a solid source for chronicling past reliability and predicting future performance."