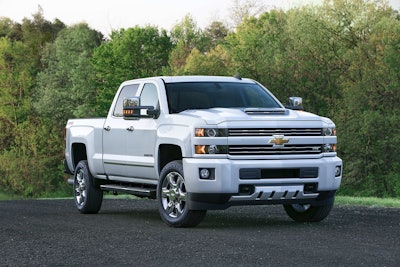 Early next year, Chevrolet and GMC will make available a compressed natural gas (CNG) and liquefied petroleum gas (LPG)-capable  6-liter V8 engine on its heavy duty trucks and commercial vans.
The engine is manufactured by Power Solutions International (PSI).
Ed Peper, U.S. vice president of GM Fleet, says expanding available engine choice is the key to helping more commercial and government fleets reduce their fuel consumption, fuel costs and emissions using alternative fuels and EVs versus using traditional gasoline.
"There are no 'one size fits all' solutions for fleet managers," he says.
Ship-through will be offered on the PSI-spec'd units, allowing customers to order and take delivery from the same dealer. GM will supply vehicles equipped with the 6.L V8 engine with hardened valves and valve seats to PSI, for installation of the fuel system and other hardware. The vehicle will then be shipped directly to dealers in all 50 states.
All PSI-modified vehicles are covered by Chevrolet and GMC's five-year/60,000-mile (whichever comes first) limited powertrain warranty.
Chevrolet also will offer CNG and LPG versions of its new Low Cab Forward commercial truck. The expanded lineup brings GM Fleet's portfolio of alternative fuel, hybrid and EVs to more than a dozen trucks, cars and crossovers. Other recent additions include the Chevrolet Bolt EV, a Duramax 2.8L B20-capable Duramax diesel for the Chevrolet Express and GMC Savana vans and all-new available 6.6L B20-capable Duramax diesel engines for the Chevrolet Silverado HD and GMC Sierra HD.