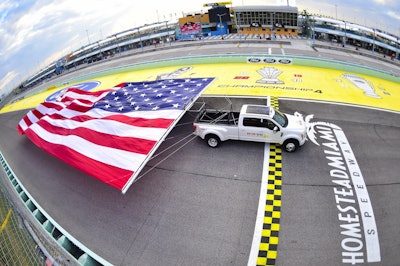 When it comes to torque ratings, Ford's latest Power Stroke V8 in the 2017 Super Duty trucks already edged out the new 6.6-liter Duramax in GM's 2017 HD pickups with a torque rating of 925 lb.-ft. to 910. And now Ford's new turbo diesel has allowed one Super Duty truck to break a Guinness World Record set by the 2017 Chevrolet Silverado HD just two months prior.
A 2017 F-450 recently pulled a 45 x 92-foot American flag for four laps around Homestead-Miami Speedway to become the world record holder for World's Largest Flag Pulled by a Moving Vehicle.
The 4,124-square-foot U.S. flag was nearly 1,000-sq.-ft. larger than the Stars and Stripes pulled by a Silverado 2500 at Texas Motor Speedway earlier this year.
Not only was the flag the F-450 towed larger, to break the record Ford says it had to travel beyond the 328 feet mark of the previous record without allowing the flag to touch the ground. The F-450 traveled that distance and then some at 360 feet.
To accomplish the feat, Ford equipped the F-450 with 45-foot riggings. A 20-person team launched and retrieved the flag, ensuring that it did not touch the ground, Ford says.
Thanks to the 440-horsepower and 925-lb.-ft. of torque of the new 6.7L Power Stroke, the F-450 can not only tow giant flags, but also a maximum gooseneck rating of 32,500 pounds, and can haul a maximum payload of 7,630 pounds.