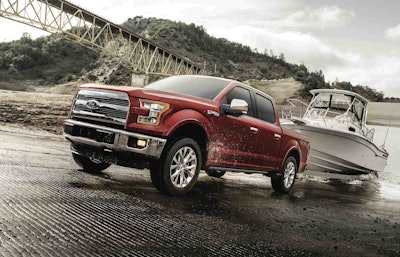 Just a week after announcing that it would stop production of the Mustang amid sagging sales, Ford is now shutting down production of the F-150 for a week at its Kansas City plant as consumers continue to shy away from the iconic truck.
The latest temporary plant shut-down follows news from Ford that overall year-over-year sales for F-Series trucks had dropped during September. Though F-Series sales for that month were Ford's best of the year at 67,809, sales were down 3 percent from the same month in 2015.
Total year-to-date U.S. vehicle sales for Ford are down 8 percent from a year ago. Retail sales are down 4 percent while fleet sales declined 21 percent. Last week, Ford stopped production of its Mustang for a week at a factory in Detroit.
Three other Ford plants, including two in Mexico, will also be temporarily suspending production, Reuters reports. Pretax profits for 2016, according to Ford, are expected to sink from $10.8 billion to $10.2 billion. The company reports that next year's profits are also expected to decline.
Ford's Louisville Assembly Plant will stop production for two weeks on the Ford Escape and the Lincoln MKC. A plant in Hermosillo, Mexico, where the Ford Fusion and Lincoln MKZ is produced, will also be idled, along with a plant in Cuautitlan, Mexico, where the Ford Fiesta is made.
The F-150 is Ford's sales workhorse. The automaker reported that 90 percent of its profit in the second quarter came from sales of the popular pickup, which also tops the list as the best-selling vehicle model in North America.
Though Ford truck sales have cooled, its Transit van continues to attract more buyers. The automaker reported last week that sales of its popular Transit line-up dominate U.S., European and Chinese van markets. In the U.S., YTD sales for Transit are up 31 percent over last year.