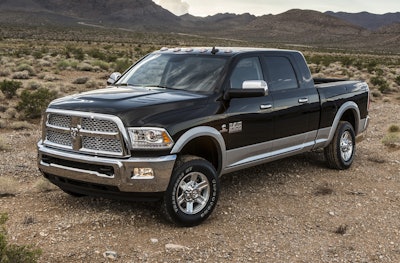 FCA is suing Cummins for $60 million over a selective catalyst reduction (SCR) system that both the U.S. Environmental Protection Agency and the California Air Resources Board say is defective and can lead to an increase in emissions.
EPA and CARB have been pushing for a recall on 2013-2015 Ram 2500 pickups with a 6.7-liter Cummins diesel which both agencies say has an SCR that can malfunction in the presence of moisture and lead to increase in nitrogen oxide, according to Reuters.
The $200 million cost to recall and repair roughly 130,000 effected trucks has FCA crying foul. The automaker reports that it's already spent $60 million so far to fix the problem in 42,000 trucks and now wants Cummins to cover that cost.
Cummins has countersued FCA over what it claims is a lack of cooperation in the recall which it says has negatively impacted Ram customers and Cummins. The Indiana-based engine manufacturer recorded $4.5 billion in revenues in the second quarter of 2016, down 10 percent from the year prior, according to investopedia.com.
According to transcripts from U.S. District Court in Detroit, FCA reports that it's willing to cooperate in the recall.
"What we are not willing to do is bear the cost of it," FCA attorney John Berg said.
A warning light in Ram trucks will indicate when there is a problem with the emissions system. If not addressed soon, the pickups will go into limp mode, according to Berg.
Cummins reported that while the two companies are disputing over financial responsibility of the recall, they are working "collaboratively to resolve an issue with a third party after treatment system purchased by (Fiat Chrysler) as quickly as possible on behalf of our customers," Cummins spokesman Jon Mills said.
FCA representative Mike Palese said the automaker is committed to working with Cummins "to ensure that any necessary repairs are carried out effectively and efficiently."
According to court documents, Cummins would like the recall to begin next month and have work completed by early next year.