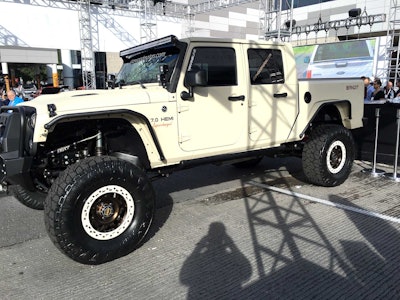 News of a new Jeep Wrangler truck attracted a lot of attention earlier this year, but FCA remains tight-lipped about the details.
To help fill in the gap, Road and Track published photos of a Jeep pickup prototype shot from a drone and offered their take on what to expect. And what we're seeing over there bears an awful lot of resemblance to the custom-built Bandit Wrangler pickup (pictured in the image above) we saw last November at the SEMA show, although with a longer, slightly more rounded off bed that gives the truck more of a typical pickup look rather than that of a desert off-roader.
"Details on the next-gen Wrangler are fairly slim thus far, though we have a pretty good idea of what to expect," reporter Chris Perkins writes.
"It'll retain its body-on-frame construction, but like the Ford F-150, it should see an increased use of aluminum to help reduce weight and boost fuel economy. Also in a nod to economy, it's been suggested that the Wrangler will get a new 300-hp turbocharged four-cylinder engine. Diesel and hybrid versions are also rumored, but yet to be confirmed."
While the prototype's body is sheathed in a black covering, the photos reveal those hard Jeep lines and angles so familiar to the brand and its pickup concepts. The tires make it look like it's ready for plenty of off-road work and play. The truck is expected to debut late next year.
Be sure to head on over to Road & Track for all the spy photos.