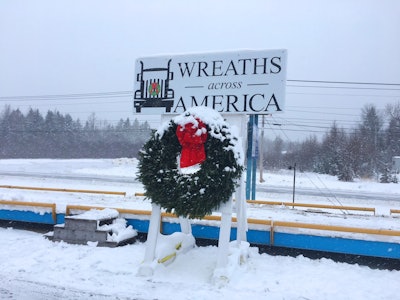 Morrill Worcester, owner of Worcester Wreath Co. in Harrington, Maine, is better known as the man behind Wreaths Across America, a nonprofit organization dedicated to remembering and honoring veterans during the holidays. In 1992, the wreath company donated remembrance wreaths that were placed on the graves of veterans at Arlington National Cemetery in Washington, D.C.. Twenty-five years later, the program has expanded worldwide, with an estimated 1.5 million volunteers holding wreath-laying ceremonies in their hometowns.
"It's so incredible, you have to pinch yourself," Worcester said in a press release. "It started with four people, eight VFW members, and 5,000 wreaths at Arlington National Cemetery. Today, we have 1,410 participating cemeteries in all 50 states and beyond."
Every year, truck drivers and fleet owners volunteer their time and vehicles to deliver the wreaths from Worcester's facility in Maine to Arlington National Cemetery and other cemeteries on the second or third Saturday of December. They make stops at schools, monuments, and veterans' homes along the way to remind people to remember, honor, and teach children about how our veterans have served our country. Some call the trip the world's largest veterans' parade.
Joey Slaughter, the owner of Blue Ridge Transport and a Freightliner Team Run Smart Pro, has been delivering the wreaths since 2014. This year he made the trip to Arlington in a brand new Freightliner Cascadia.
"It's humbling and is an honor to be able to deliver these wreaths to Arlington National Cemetery. There are so many heroes buried here," Slaughter said in the press release. "As a veteran myself, I think it's up to us to lead the charge and support this type of work as best as we can. The older generations have carried the torch before us, both in war and in honoring veterans, and I'm glad it's my generation's turn to step up and do its part."
Sherri Garner Brumbaugh, president and CEO of Garner Trucking Inc. and vice chairman of the American Trucking Association, has donated the use of patriotic, custom-painted Freightliner trucks, as well as volunteer drivers, for five years. This year, her Driver of the Year made the trip from Maine to Arlington National Cemetery, and last year's winner delivered wreaths at veteran grave sites in the company's hometown of Findlay, Ohio. Brumbaugh's son organized the Findlay Wreaths Across America remembrance as his Eagle Scout Service Project.
"These wreaths would not get across the country if it were not for the trucking industry. There's no other industry that could make it happen," said Brumbaugh in the press release. "To be part of something bigger than you is a great feeling. And to think, it's only made possible by a very giving wreath-making company."