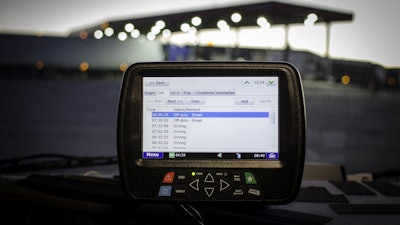 On Monday, December 18, the drivers of many if not most heavy duty commercial vehicles will be required to have a functional electronic logging device (ELD) with them in the cabs of their trucks.
It's not like they weren't warned. The ELD mandate from the Federal Motor Carrier Safety Administration has been years in the making. In June, we published a comprehensive Special Report on the law, Scramble or Gamble. And we followed that with an update in late November.
Most big highway-haul fleets are wired up and ready as the law was designed to prevent these types of long-haul drivers from fudging paper log books and driving while tired. But some independents, smaller operators and construction vocational fleets are still unprepared, or scrambling now to find and set up an ELD system before December 18.
"There is a lot of panic buying," says Josh DeCock, product management director, Pedigree Technologies. "We have partners who say their customers are going to wait to see how seriously the FMCSA is about enforcing it and if there are big fines. If there are not big fines they may wait until April or May."
So, some are scrambling and some are gambling. And that doesn't mean there aren't penalties for not having an ELD. According to our sister publication Commercial Carrier Journal:
The Commercial Vehicle Safety Alliance, which is made up of enforcement officials and meant to provide uniformity in enforcement of trucking and bus regulations, says it has notified the Federal Motor Carrier Safety Administration of its plan to begin citation enforcement December 18 and out-of-service enforcement in April.
Inspectors will, at their discretion, begin issuing citations for non-compliance with the federal electronic logging device mandate on the December 18 deadline. However, the 10-hour out-of-service order associated with non-compliance with the mandate will begin April 1, 2018, CVSA also announced.
"After December 18, 2017, if you don't have an AOBRD or ELD the violation will be cited, and a driver could be fined, but they won't be put out of service. Companies that continually violate the rule could be subject to federal investigation as well," says FMCSA spokesperson Duane DeBruyne.
No easy fix
The problem last-minute panic buyers are going to encounter is that you can't just stop at your local Walmart and pick up an ELD. Most systems have to be plugged into your truck's on-board diagnostic port, and drivers have to be trained in the basics of ELD data entry. Demand for the devices and cables is skyrocketing and the vendors also have to scale up their servers for systems that record hours of service via telematics in the cloud.
According to April Dennis, marketing management director at Pedigree Technologies, people are calling and expecting an immediate solution. If they don't get a return call in two hours, they're upset, she says.
"If you haven't purchased a system by now, you're not going to get there by the deadline," says Pete Allen, chief client officer, MiX Telematics. "There are some systems that are plug-and-play, where they can update to a cell phone. But training may be impossible at this point."
As for what a sufficient lead time would be, Allen says it depends on the vendor and how sophisticated the system is. "If they are purchasing a plug-and-play system, it can be a matter of a few weeks. It's simple and easy to do."
But if you have to spend the money and do the training, why not get a more sophisticated system that will measure more than just driver hours—a telematics system that can deliver ROI and put money back into the company.
"If you are looking for a full-blown telematics solution that does more than just ELD—something that monitors driver behavior, safety, fuel economy, asset tracking and efficiency—that is going to take a month or two of planning and implementation depending on fleet size," says Allen.
Resources