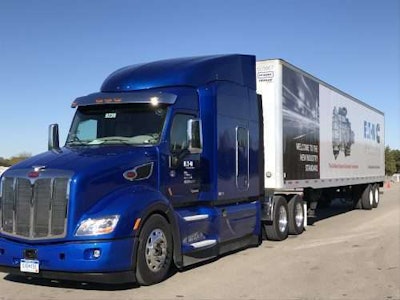 Following three years of development and barely 90 days after Eaton and Cummins announced a formal joint powertrain partnership, Eaton's Endurant 12-speed automated transmission was officially born last month.
The first "purpose built" heavy-duty automated transmission on the market, Endurant and its torque ratings of up to 1,850 lb.-ft. will be matched with the Cummins X15 engine rated up to 510 hp in some on-highway Paccar tractors as of this month.
Automated manual transmissions (AMT) are bred from a manual gearbox. Even though the process of shifting is automated, Eaton's Manager of Program Management Matt Erdmann says the shift pattern isn't changed. With a true automated transmission like the Endurant, Erdmann says many conventional design restraints were removed. For example, Endurant features linear shift rails – a departure from the standard sideways shift pattern required of manual transmissions and AMTs.
"The shifting is all on linear shift rails and there is no 'across' in the pattern," Erdmann says. "You would have to have about three arms to try and shift this manually."
Linear shift rails also help optimize the design for speed and reliability since there's no wasted sideways motion.
Endurant is the lightest heavy duty automatic on the market by 105 pounds – a byproduct of the fact the 12-speed was designed from the ground up as automated transmission. AMTs on the market still feature many manual components and to automate a manual transmission, you have to add more features to it.
Endurant removes those manual pieces and that allowed designers to work around the unit's function rather than its components.
The transmission unit itself is noticeably more slim compared to its AMT cousins but the benefits of a redesign aren't isolated to weight. The gearbox features an internal electrical system routing that minimizes exposure and corrosion. There's really very little (wires and connectors) hanging on the outside of the transmission, which improves overall reliability.
Eaton field-tested Endurant for more than 2 million equivalent miles. For about 40 miles, I was handed the keys to a 2016 Kenworth that rolled off the assembly line with an UltraShift originally installed. That was soon removed and that tractor, and the more than 40,000 miles it logged by the time I jumped into the seat, became an Endurant validation truck.
I've driven the Paccar version of this transmission before. Developed in conjunction with Eaton, the Paccar Transmission is as smooth of a 12-speed as you can get with an MX engine. The Endurant is available in Kenworth and Peterbilt tractors spec'd with the Cummins X15 engine.
Other than some Paccar MX vs. Cummins optimization fine-tuning, the two units are identical.
Like the Paccar variant, the Endurant's shifter sits on the steering column and is integrated with the engine brake. At highway speeds, Eaton's new 12 speed – which Scott Davis, general manager of the Eaton Cummins Automated Transmission Technologies joint venture, expects will be the go-to Eaton gearbox in line-haul applications – performs at levels you'd expect from Eaton with added features you may otherwise not expect.
From stop, the transmission nimbly skips through gears to bring the truck up to speed before settling into a sequential shift pattern at about ninth gear. A grade sensor inside the transmission judges the terrain and senses the power needs of the tractor, aiding in the shift decision-making process and boosting overall efficiency.
At low-speed, Endurant's Urge to Move feature allows the truck to creep forward or in reverse without having to feather the accelerator or brake pedal. Urge to Move features four forward speeds, which can be selected manually to adjust speeds under heavy traffic conditions. Reverse gets two speeds, which also can be selected manually. It's powerful, too. Parked on a 15 percent grade, I launched my 70,000 gross pound tractor using only Urge to Move while letting the Hill Start Assist feature prevent me from rolling backward, and it easily crested the hill.
In reverse, Urge to Move makes backing and coupling safer by not requiring any input from the accelerator.
On the open road, Endurant's 18.8:1 ratio offers a good low-end ratio for fine control at low speeds, but its overdrive ratio provides a good cruise at highway speed. The 12-speed unit also offers smaller steps for a quicker and smoother shift versus a 10 speed model.
On Endurant, Eaton stretched oil drain intervals to 750,000 miles – about 50 percent longer than its UltraShift Plus. The new unit needs about half as much fluid and a segment-exclusive pressure sensor notifies the driver when the fluid is low and can prompt the driver to stop before the unit burns up.
Capable down to 1,000 rpm – with downshifts happening as low as 850 rpm – Endurant strikes a delicate balance between efficiency and power and does so with faster and smoother shifts. And it's likely to start a different kind of shift.
As manual transmissions lose their grip as the preferred method of changing gears, Erdmann says there will be less innovation in that segment. Line haul's clear preference for the current generation of automated shifting is likely to bring more automated transmissions to market.
"You won't see a lot of significant investment into brand new manual transmission," Erdmann says. "I would say anything that is a revolutionary change going forward is probably automation focused."