Hauling the biggest loads
Whether it's machinery or huge industrial components, before you hit the road with an oversize or overweight load, consider using a specialist.
The technical aspects of hauling big or heavy loads on trailers is well known by experienced contractors. You get a big enough tractor, a big enough trailer and you tie down the load according to the manufacturer's specs or DOT rules.
But there is a whole other world of complications, regulations and requirements contractors must adhere to before putting an oversized or overweight load on the road. And these additional requirements are such that in, most cases, contractors are going to need a specialist to help them organize and execute the move.
For Robert Hall, director of carrier operations at Ryan Transportation Service, it's just these logistical complications that make his job interesting. "Our preplanning is what makes these difficult and challenging moves exciting," he says. "A lot of customers don't see all the planning that goes into it, including routing, timing, state permits, restrictions, construction issues and crane involvement."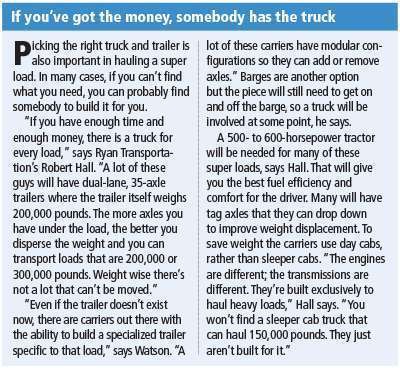 Ryan Transportation Service is a transportation broker, meaning they organize the haul, arrange for all the logistics, screen and qualify the carriers and in some cases provide financing for the cost of hauling oversize or overweight loads. The company specializes in loads that are wider than the 8-foot 6-inches legal length and taller than 13-foot 6-inches. These heavy loads can weigh from 45,000 pounds to between 150,000 and 160,000 pounds.
The financial penalty for any contractor who gets any one aspect of a super load haul job wrong is enormous, says Hall. Take cranes for example. To get a big load onto a trailer often requires the service of a large crane. At $1,500 an hour to rent a crane and operator, being unprepared when the crane arrives can take quite a bite out of the contractor's bottom line, he says.
The key to success, Hall says, is to have a strong transportation plan that takes into account the complexity of the job, the savings and cost considerations and safety and risk mitigation.
Complexity
To guarantee a successful job involves hundreds of details. You need to know the exact weight and dimension of the load, do all your planning, secure the proper permits and the right truck for the load, map out the most cost efficient route and make insurance arrangements.
Much of the complexity comes from the fact that every state has different requirements and permit standards for oversized/overweight loads, says Hall. Some charge more for permits and some even require a 10-day waiting period. In one state you may not need an escort car but as soon as you cross a state line, you do.
In some New England states, for loads taller than 14-foot 6-inches, you need an escort car with a pole on it to gauge bridge or powerline heights. But for many states out west, oversize regulations come into play at 16 feet or 17 feet, says Nathan Watson, director of business development for Ryan Transportation Service. "And trust me, the states can change things overnight," he says.
Route planning
Choosing the route for a super load is more involved that just looking at the map. The permits will require you to specify the exact route you take, but before that, you or your broker or carrier need to survey the entire route, check bridge heights and watch out for detours or road construction that may interfere with the haul, says Watson.
In some circumstances you will be required to get clearance or permission to use private roadways or co-op owned roadways. These may require wavers or pre-approval. And if part of the route into a construction site is over unpaved surfaces, those must be examined to make sure they can handle the loads.
States and metropolitan areas often have curfews on when a super load can run on a highway. Many restrict these loads to daylight hours. "The carrier has to balance that with how many hours they have on their log books and plan their fuel stops, inspections and mandatory breaks. They have to look at much more than just how much daylight they have to run."
And finally, to prevent excess rental charges, the arrival of the super load must be timed to coincide with a crane or any specialized equipment that's needed to remove and place the load. "All this has to be built into the precheck to make sure that we have access to the origin and the destination and to make sure it's safe, clear and legal," says Watson.
Who to use
Unless your company hauls super loads on a regular basis, you're probably looking at hiring out the expertise. You could sub this out to a carrier who owns the truck and trailer or go with a broker, which would hire the carrier for you and handle all the logistics and paperwork.
The benefits of a broker are that they can choose from a network of carriers and bring substantial logistics experience to the table, says Hall. They can also help you with insurance issues and identify ways to make your move more cost efficient.
If you plan to execute more than one super move, Hall recommends you create a process of benchmarking how your company handles super load transportation so you do not have to reinvent the wheel every time you need to move a similar load. Develop a method for securing carriers, following regulations and building shipping schedules. This approach can improve transportation performance and cut wasteful spending, he says.