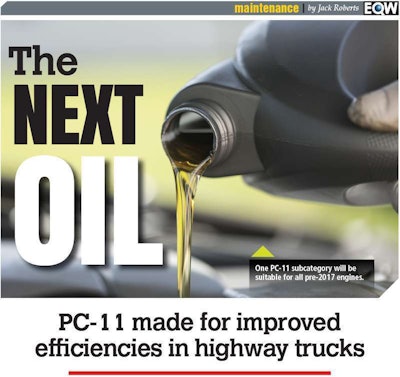 A new engine oil category being introduced at the end of this year promises better fuel economy and longer change intervals.
The new oil, designated PC-11 (Proposed Category 11) by the Diesel Engine Oil Advisory Panel, will be marketed in two subcategories as early as December. One will be for new 2017 emissions-compliant engines, the other for all previous engines.
"Testing has already confirmed that the new oils will deliver fuel economy boosts from 2 to 4 percent, depending on the engine and application," says Dan Arcy, global OEM technical manager for Shell Lubricants and chairman of the American Petroleum Institute committee developing the PC-11 category.
The biggest single performance improvement the new oils will offer involves oxidation control, says Shawn Whitacre, senior staff engineer of engine oil technology for Chevron Lubricants. Oxidation control helps the oil withstand high temperatures without breaking down, which can create longer change intervals.
The last round of emissions regulations, in 2010, focused on nitrogen oxides (NOx) and particulate matter. The new, more stringent standards set for next year target carbon dioxide and other greenhouse gas emissions.
"Add a whole host of engine design changes that will enter the market in 2017, and the need for a more modern engine oil becomes obvious," Whitacre says.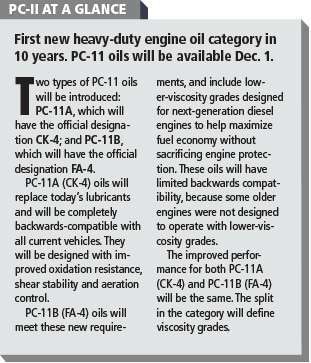 The two main components that impact change intervals for heavy-duty engine oil are the total base number depletion and the oxidation number. "There used to be a third consideration – soot levels in the engine," he says. "That is becoming less important as diesel exhaust emissions systems have improved."
Pre-2010 engines required frequent drains because they produced more soot due to increased exhaust gas recirculation. But, soot control has been addressed by improvements in CJ-4 oils and the advent of cleaner ultra-low-sulfur diesel fuel.
New 2017 engines will run 5 to 15 degrees hotter than today's engines. "We have to make sure that when the new oil gets hot, it doesn't break down," Whitacre says.
Oil makers have taken that into consideration, as well as the need for compatibility with existing engine systems, says Jonathan Sheumaker, technical adviser for liquid filtration research and technology at Cummins Filtration.
"There should be no impact on the filter, although a lower-viscosity oil should provide less restriction as it flows through the filter, which can help improve engine efficiency and fuel economy," Sheumaker says.
The new oil designated for pre-2017 engines will be PC-11A, classified as CK-4. It will replace SAE 40-weight oils. CK-4 products "will be completely backwards-compatible with all current vehicles," Arcy says. "They will be designed with improved oxidation resistance, shear stability and aeration control."
PC-11B, which will replace some SAE 30-weight oils, will be designated as FA-4.
FA-4 oil will also meet those new requirements while adding lower-viscosity grades that are not suitable for older engines.
Whitacre says the split category designation primarily reflects 30-weight oils, since 40-weight oils have viscosity that is much higher than the FA-4 category will allow. However, he notes the possibility for confusion about 30-weight oils in the PC-11 framework.
Both 10w-30 and 5w-30 PC-11 formulations could be marketed as CK-4 or FA-4, depending on their high-temperature high-shear viscosity, Whitacre says. API is trying to figure out exactly how the industry will communicate all of this information to drivers, technicians and fleets.
Some users, such as a firm operating older equipment and mixed engine types, "will only see a small impact from PC-11," says Paul Cigala, commercial vehicles applications engineer for ExxonMobil Fuels & Lubricants. Those fleets may only need to transition from CJ-4 to the newer CK-4 formulation.
"In comparison, a fleet with a mix of older and newer equipment may choose to stock both CK-4 and FA-4 formulations," Cigala says. "CK-4 oils will be suitable for use in both older and newer equipment, but if the fleet is looking to enhance the fuel economy of its newer engines, it will likely decide to use the new FA-4 formulation."