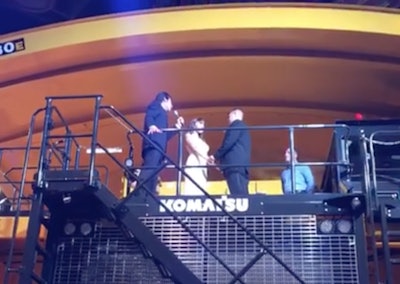 Not everyone who gets married in Las Vegas remembers much of it. Or wants to. But if memorable does happen to be what you're going for in a Vegas wedding, having them take place two stories high aboard a giant haul truck is certainly one way to go about it.
At the MINExpo show Tuesday, officials closed the floor down at 5 p.m. for a wedding ceremony at the Komatsu booth. Atop a 930E haul truck on display there, Komatsu employee Jesse Townsend exchanged vows with Mariana Balashova. Video of the ceremony was captured in a Facebook Live post by our sister site Aggregates Manager and can be seen below.
Sometimes, even Vegas surprises you. Mazel tov to the happy couple.