Boasting a new dump body design, improved handling, control and performance, Komatsu has introduced to North America its largest mining haul truck yet in the 980E-4.
An electric drive truck with 400-tons of capacity, the 980E-4 is designed for use in large-scale mining applications in tandem with big bucket (55-99 cubic yards) shovels like the Komatsu PC8000. The truck is powered by an 18-cylinder Komatsu SSDA18V170 diesel engine producing 3,500 horsepower.
Komatsu product manager Tom Stedman says the truck comes in response to several years of customer requests for a 400-ton capacity truck. "Building on the foundation of the 960E, Komatsu was able to expedite the development of this new truck, while maintaining our strict standards of design, testing and product quality," Stedman said in a statement.
The company says the truck's engine maintains a high stall-torque capacity for mines with soft underfoot conditions and comes standard with a pre-lube system designed to reduce wear during start-up. The truck also features a dump body with a new design. Komatsu also offers custom body designs on the 980E-4 for a range of applications.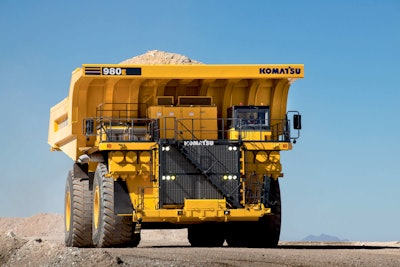 Customers can also expect better control and handling from the 980E-4 over previous haul trucks thanks to the following features:
• An AC system that features an alternator designed with a dual impeller in-line blower (12,000 cfm air capacity), for consistent electrical component cooling and a high capacity retarding package for longer brake life and improved horsepower for downhill descents.
• An electric dynamic retardation force of 6,000 hp, for continuous downhill hauling that allows the 980E-4 to maintain constant downhill speed or decelerate without frequent use of brakes. This permits travel at higher speeds—even down longer, steep slopes.
• An advanced traction and slip/slide management system that precisely controls the torque applied to each wheel independently. It is also engineered to reduce non-productive wheel spin in low-traction conditions.
• Similar logic is used during dynamic retarding for managing wheel lockup. These systems help provide exceptional vehicle control and handling, whether heading uphill or down.
Inside the cab, operators will find an adjustable air suspension seat with lumbar support and arm rests along with a buddy seat, tilting/telescoping steering wheel and the Komatsu PLM IV payload weighing system. This weighing system is able to store 20,480 downloadable records of data including payload, cycle times, load count and fault codes. The system has a simple web interface and connects to other chassis systems via Ethernet, CAN bus and USB.
An easy to access Convenience Center is located on the front bumper adjacent to the main entry and contains several items for operators and technicians including an auto-lubrication tank and switches to isolate machine power, restrict starter engagement or disable propulsion.
Meanwhile, Komatsu's Smart Rims are an available option on the 980E-4. Available for the first time on a production truck, these rims allow easy removal and installation of the truck's tires without removing the rims.