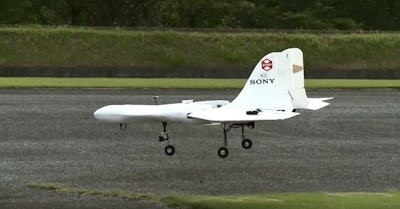 With drone use exploding and applications for commercial use exemptions flooding into the Federal Aviation Administration, Japanese tech giant Sony is showing off the prototype for its own unmanned aircraft.
According to the Wall Street Journal, the AS-DTO1-E is being developed with commercial use in mind. As you can see in the video below of the drone in action, the DTO1-E has a unique hybrid design. It's shaped like a small airplane but is propelled by a stacked, dual rotor in the center of the aircraft.
That design allows for vertical takeoffs and landings. The prototype is said to be able to carry up to 22 pounds and fly more than two hours at a time at a maximum speed of 106 miles per hour.
Sony is developing the drone in a joint venture called Aerosense with ZMP Inc., a startup based in Tokyo. The company says it is designing its unmanned aircraft to offer automated infrastructure inspections and surveying among other services.
Sony hopes its drones will pull in $82.6 million per year by 2020, the WSJ reports.