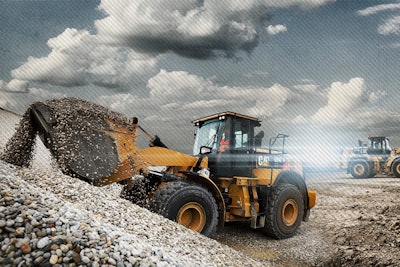 Everybody knows telematics can improve productivity, but fleet managers and contractors are just beginning to discover how this technology plays a big role in making heavy equipment and trucking safer.
That's the theme for the Association of Equipment Management Professionals yearly Asset Management Symposium, which will be held October 6-8, in Cleveland, Ohio. The education and networking event, titled "Safety: Mitigating Risks & Using Telematics," is being held in conjunction with the Association of Equipment Manufacturers' (AEM) Customer Support program.
The AEMP speaker lineup kicks off with keynoter Bruce Wilkinson, a consultant who works to help companies translate their culture into inspirational leadership and personal accountability. Wilkinson's key message is that while priorities change, values, including safety, should not.
The two-day symposium includes numerous educational sessions, including:
Utilizing incident data in the equipment triangle. A look at how the right protocols for accident reporting and sharing information can reduce risk and keep workers safer in the future. Speakers: Mike Hatfield, Caterpillar; Mike Slinger, Murphy Tractor; Kirby Yakemchuk, Ledcor Industries.
Equipment design with safety in mind. Provides insight into the processes that OEMs incorporate in the safety design of earthmoving equipment. Speaker: Greg Kittle, John Deere.
Daily equipment inspection programs: This joint session with AEM will examine how software, telematics and other digital technologies have improved the daily inspection process and improved machine operation. Speakers: Matt Beinlich, Komatsu; Fred Fakkema, Zonar, Kerry Sudrla, Kiewit.
Key elements of a successful job hazard analysis policy. Smart fleet managers don't wait for accidents to happen, they reduce the incidence of accidents by getting out in front of the problem with jobsite hazard analysis. Speaker: Jason Ruggles, Traylor Bros.
Safety best practices–lessons learned from our membership. A panel discussion with the fleet managers from many of the country's largest construction companies. Participants: Dana Cirks, Titan Rentals; John Depoorter, AECOM; Heather Nicolet, Precision Pipeline; Adam Ralph and Jason Ruggles, Traylor Bros.; Don Swasing, Schlouch Inc. Tim Truex, Kokosing.
AEMP safety survey update. Find out what your peers in the industry are doing to improve safety in their companies and help shape the future direction of the AEMPs safety committee goals. Speakers: Paul Kitko, Glenn O Hawbaker; Kirby Yakemchuk Ledcor Industries.
Leveraging digital media in off-road equipment environment. Another joint session with AEM, this will show participants how to develop and leverage social a social media strategy to engage core consumers, employees, and stakeholders and create ROI. Speakers: Carisa Miklusak, tMedia.
A safe partnership: Telematics and the equipment triangle. Joint session exploring how asset managers can use the distributors fleet data to improve utilization and lower costs, and how distributors and asset managers can leverage telematics for better purchasing, rental and leasing decisions and safety. Speakers: John Meese, Waste Management; Steve Pirnat, Ohio CAT; Juan Ramirez Jr., Bechtel; Bob Weber, Columbus Equipment.
Improving operator and driver behavior through technology. Learn how distracted driving and operating can be reduced with in-vehicle camera and sensors leading to safer workers and reduced insurance rates. Speakers: Mike Baker, SmartDrive; Todd Dawson, Caterpillar, Tim Morgan, Branch Highways.
Managing telematics hardware evolution from 2G to 3G devices (and beyond). Speakers

: Jeff Cohen, Telogis, John Howerton, Navman Wireless.
To register for the event and instructions on how to download the symposium materials go to www.aemp.org/ams2015/.
Cost for AEMP members is: $795. Non-members: $995
Hotel: Rooms are available at The Westin Cleveland Downtown at the AEMP and AEM group rate of $159. The hotel cut-off date is September 4, 2015. These rates will be offered on a space-available basis three days pre and post meeting. Click here to reserve a room online or call 1-888-627-8085 to make a reservation. An airport shuttle service available, Ohio Connection, (216) 324-8999.