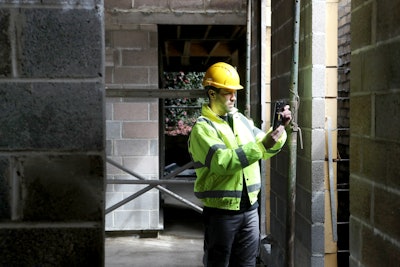 Panasonic
Built to survive a 5-foot drop onto concrete … work in temperatures ranging from -4 degrees to 122 degrees Fahrenheit … be operated with thick gloves on … yep, sounds like a tablet made for construction.
In its latest iteration in the rugged tablet space, Panasonic is offering the Android-based Toughbook S1, designed to give users an easily handled 7-inch tablet that weighs less than a pound and is made for the rigors of field operation.
"Just from a pure hardware standpoint, there's nothing like the S1 in the market now. No one has a 7-inch screen format like we do," says Dan Diliberti, head of mobility products and market strategy, Panasonic System Solutions Company of North America. "It's small enough to be carried in a cargo pocket or tool bag. It hits the sweet spot in terms of screen size."
The S1 also is the only enterprise-grade tablet that can use both landscape and portrait modes, Panasonic says.
Panasonic has a long history with rugged devices – this is the 25th year of its Toughbook products. Panasonic also provides many of the touchscreen displays that have become ubiquitous in construction equipment.
Upfront specs
The S1 meets the MIL-STD 810H standard, which defines how much water and dust can ingress the device.
As stated, it can handle temperatures from -4 degrees to 122 degrees Fahrenheit.
"Say you're in Arizona and the device is left in a truck in the summer," Diliberti says. "When the driver gets back into the truck and turns the AC on, the temperature can drop 50 degrees within 10 to 15 minutes. That kind of expanding and contracting can be horrible to technology."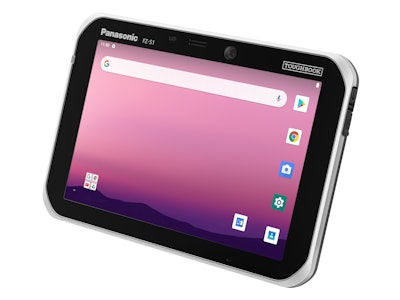 With a 14-hour battery life and warm swap battery (meaning users can swap out batteries without rebooting the device), the S1 also can be recharged in two hours. Because it has a USB port, it can be topped off with a power stick just like a phone.
Panasonic continues with its patented rain mode feature on the S1. "When it's in rain mode, it will only take input from your finger," Diliberti says. "This avoids the situation where raindrops confuse a phone display. It's an important piece of the ruggedness story."
The S1 can be operated using a stylus and finger. Glove touch, a feature on previous Toughbooks, also allows operating the device with gloves on.
"We have three different settings: thick (as in a winter glove), medium (as in a standard work glove) and thin (for healthcare-type latex gloves). If users have to take off their gloves to do their job, it's not going to work," Diliberti says.
The S1 uses a 13-megapixel camera; users can opt for a barcode scanner on the back of the unit for inventory tracking. Adding less than a pound to the tablet, the scanner is fully integrated into the tablet's Productivity+ tablet system, can be operated in 1D or 2D and in either portrait or landscape mode.
The back of the S1 features an ergonomic grip.
Construction use case
Both contractors and dealers – especially technicians – can put the S1 to immediate use, says Michael Bates, Panasonic enterprise account manager, who's worked with a number of construction clients.
"Contractors need power, rugged ability and service and support," Bates says, adding that contractors typically ask about whether the tablet will work with a particular application, battery life and the degree of ruggedness. Can it survive Mother Nature?
Contractors are also interested in using CAD and building visualizations, Bates says, so seeing the display in full sun is critical. The S1 has a 500-nit display (nits are a measurement of how bright the individual pixel is). "The brighter the display, the better you can see it in direct sunlight," says Diliberti.
Equipment technicians can also make good use of the S1, says Bates. "If someone's working on a front-end loader, they can bring a service video up and just prop the tablet on an available surface." Another possibility is using the optional barcode scanner to scan parts as they are used on the job.
Details
Panasonic builds the Toughbook for a three-year life cycle, but "the majority of my customers keep their products anywhere from five to seven years," Bates says.
The 4 GB memory and 64 GB storage are the "high end of the standard for memory and storage for rugged devices," Diliberti says. "Customers aren't going to be using it as a browsing device or as a personal PC. It's going to be locked down as a tool."
As stated, the S1 uses Panasonic's Productivity+ "a comprehensive Android ecosystem that enables customers to develop, deploy and sustain the Android OS environment," Panasonic says.
The device has a Qualcomm Octa-core processor, which Diliberti says is the industry standard chipset for ruggedized devices. It's based on Android 10, but "as the market matures, we'll have a path to go above Android 10," Diliberti says.
Available options include an extended-life battery back and a second USB-A port.
The S1 costs $2,499, which Panasonic says is on par with its other rugged tablets.
Quick specs:
Productivity+ Android software
Optional 1D/2D barcode reader
2nd USB Type A and extended-life battery
HD sunlight viewable screen with patented rain mode, glove touch and multi-touch
Warm swap battery function with up to 14 hours of battery life
P65 and IP67 sealed all-weather design
Certified to latest MIL-STD 810H standards
FirstNet Ready and supports Band 14 connectivity
Cost: $2,499