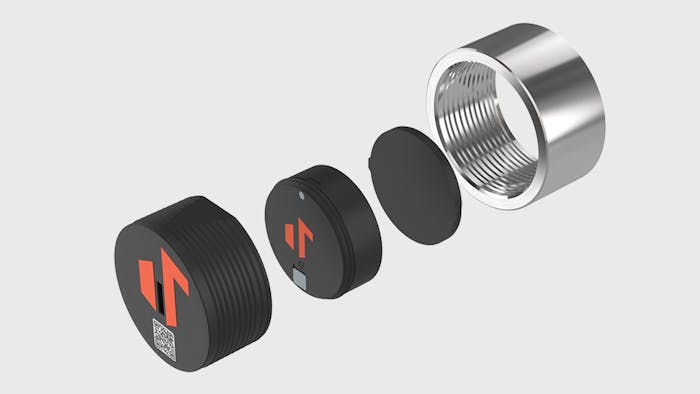 Tenna
Searching for a robust solution to keep track of construction attachments such as buckets and blades, Tenna has created its TennaBLE Beacon Steel Puck tracking device. It's designed for attachments that get aggressive, high-impact use, and can also be used to locate other machine parts such as crane boom sections.
The puck is an offshoot of Tenna's current Bluetooth Low Energy (BLE) asset tracker. It features an IP67 watertight glass-filled nylon inner casing to protect against dust, sand and water, and an aluminum-killed steel outer fitting for impact resistance.
A welded fitting on the puck gives it a permanent mounting that will resist extreme forces, Tenna says. Each puck has a 2.25-inch outside diameter and is 1.15 inches high. 
The puck tracker sends out regular "heartbeats" every three seconds that are recognized by Tenna's mobile asset tracking app. When in range, the app automatically identifies and records the location of tagged assets and stores the data. Anyone with the Tenna app can pick up beacons and record updates to your account. Users outside of your company, however, do not have access to your data. 
The puck casing and mounting has minimum impact to the RF signal, Tenna says, allowing users to track units within a 100-yard range and spend less time looking for buckets and other attachments. Using the Tenna app, contractors can see the location of each tagged asset. 
In addition to attachments, the TennaBLE Beacon Steel Puck can be used on crane boom sections, trench boxes and spare parts, says the company. The puck's lithium-metal battery has a three-year life. 
Attachments are often overlooked in the equipment management world, says James House, Tenna's director of implementation, and there was no solution that held up to the rigors of the construction environment. "Our clients will not have full visibility over where these assets are on the jobsite and in the yard," he adds. "No more buckets left in the weeds during job closeouts."