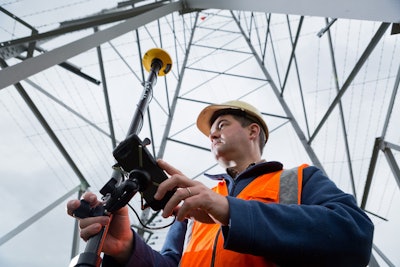 Trimble has acquired MidStates VRS from Butler Machinery and Frontier Precision. The addition of the North and South Dakota network increases the footprint of Trimble's VRS Now GNSS corrections service to cover more than 1 million square miles in North America.
VRS Now is a corrections service aimed at the agricultural, geospatial and construction markets. Emerging applications include autonomous applications such as lane-keeping for passenger vehicles, vehicle-to-anything position identification and unmanned aerial system guidance.
The MidStates acquisition adds 105,000 square miles of coverage, expanding the Trimble VRS network to "one of the largest in North America," Trimble says.
Equipped with a Trimble or third-party commercial GNSS receiver, VRS users such as construction surveyors, GIS professionals and farmers can "leverage instant high-accuracy corrections delivered via cellular network to improve productivity," according to Trimble.
Trimble says the VRS system does not require a GNSS base station and gives users instant access to Real-Time Kinematic and post-processing corrections using a network of permanent continuously operating reference stations.
"The MidStates VRS network covers significant farmland, oil fields and rapidly developing urban areas, providing farmers and surveyors in the region with the real-time GNSS correction services they need to improve their day-to-day work," said Patricia Boothe, senior vice president of Trimble's Autonomy Sector.