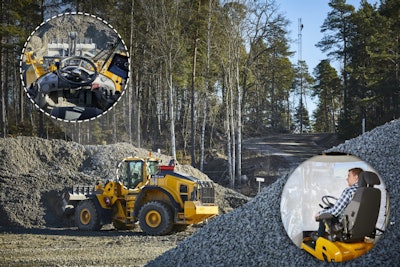 Volvo Construction Equipment says it has partnered with phone company Telia and communications network giant Ericsson to launch Sweden's first industrial 5G network at Volvo CE's facility in Eskilstuna, Sweden. The launch means that Volvo CE will be "one of the first to use 5G technology to test remote-controlled machines and autonomous solutions," says the company.
The project will further examine remote control of a conventional wheel loader and continue development of the HX2 concept load carrier. The HX2 is integral to Volvo's Electric Site quarry testing, a project the company is conducting with partner-client Skanska.
Volvo CE says it will use the 5G—which stands for Fifth Generation, the successor to 4G—network to further its understanding of how connected machines can add value for customers. 5G networks are much faster, have shorter lag times, higher accessibility and are able to handle more connected devices at the same time than the 4G wireless technology it replaces.
Connecting "business-critical machines and vehicles requires a solution that is able to handle the massive amounts of data with guaranteed connection," says Anders Olson, CEO of project partner Telia Sweden. "That is what 5G can give us."
"By minimizing the potential safety risks and downtime associated with sectors such as mining, we can get closer to our goal of zero emissions, zero accidents and zero unplanned stops," says Melker Jernberg, president, Volvo CE. "It will be exciting to see how far 5G can take us on that journey."
Using 5G will also help Volvo CE deal with the time lag that hinders today's remote-control technology, making it difficult to control machines at high speed or with higher precision.
Eliminating time lag
This time lag was noted on an earlier Volvo CE/Telia/Ericsson partnership that tested remote-controlled wheel loaders located more than 1,312 feet below in an underground mine.
Operated by a crew member positioned in an above-ground office at Swedish mining company Boliden's Kankberg underground mine, the wheel loader performed loading tasks in a production atmosphere while researchers examined remote-control-to-machine communication concerns such as network delays.
In the Volvo/Boliden test, the operator was connected to the machine via the internet. During the test, researchers tested the controls using both standard Wi-Fi and 4G+ networks.
The research revealed some challenges since it was critical that the delay between the above-ground controls and the machine be minimal. With the operator in an office environment, he or she may not feel when they are stressing the machine.