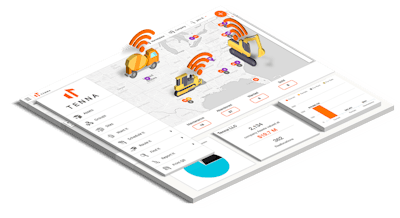 Construction technology startup company Tenna has developed a system that lets contractors instantly know where all their equipment, trucks and tools are and even enables operators to conduct equipment and vehicle inspections.
The One Platform system includes a variety of Internet of Things sensors – Bluetooth, GPS and cellular – and QR codes, an app and software for tracking assets and viewing that information, and the digital Driver Vehicle Inspection Program software and app. All of that information can be boiled down to one view for the contractor.
"It's one screen where you go to see everything you've spent your money on, every asset you own, and whether it's being used the way it's supposed to be," said company co-founder Jose Cueva during the 2019 World of Asphalt show in Indianapolis. "I need peace of mind to know my stuff is where I think it is – it's working, it's running, it's safe."
The system also provides such information as fuel consumption, billing and rental cost. The hardware includes a variety of sensors and trackers – semiautonomous and fully autonomous – designed for the types of assets to be tracked, from concrete saws to crawler excavators. Cueva says the hardware works with any OEM brand.
How it works
In explaining the asset-management system, Cueva gave an example of a typical day for a foreman.
Before operating a truck, the foreman does a walkaround inspection of the vehicle. QR codes are placed at safety points that can be scanned with a smartphone via the Driver Vehicle Inspection Report app. Safety points include taillights and emergency brakes. The same can be done for equipment. If the foreman sees an issue, it can be immediately reported to the shop. The foreman takes a photo of the concern and sends it to the mechanic. The foreman also has a record on his phone to show the state trooper the inspection report should he get pulled over.
Once the vehicle or piece of equipment is started, the app will report such information as location, speed, idle time and fuel consumption. It also provides information on rental cost on the equipment to aid in billing the customer.
An app will display any tools in the truck and on the jobsite that have sensors on them, including generators, pumps, compressors and power hand tools.
Back at the office, the contractor and staff can see all changes occurring in real time. A dashboard view on the computer or mobile device shows all of the assets' locations, their assignments, fleet metrics, maintenance needs, the percentage of assets working, among other data.
For example, an excavator view would also show the location of the coupler and bucket. The office can set up alerts for when the equipment arrives and leaves a jobsite. And it can show what items need repair and have been repaired.
The system also has a search function. So if you want to find an excavator, you simply type in "excavator," and information will appear.
Cueva says the search function and being able to set up alerts mean workers don't have to spend much time staring at the screen.
Field users, shop managers and mechanics will likely interact with the system daily. Project management typically deals with it weekly, and executives can run monthly, quarterly and annual reports.
Tenna will conduct an asset inventory for the customer for an additional charge.
Tenna has also developed an online marketplace of contractors who can rent or sell equipment that is not being used.
"There are so many things just sitting around underutilized, that if we all knew where they are at all times, we could make better use of them," Cueva says. "Some have no idea how many things they own."