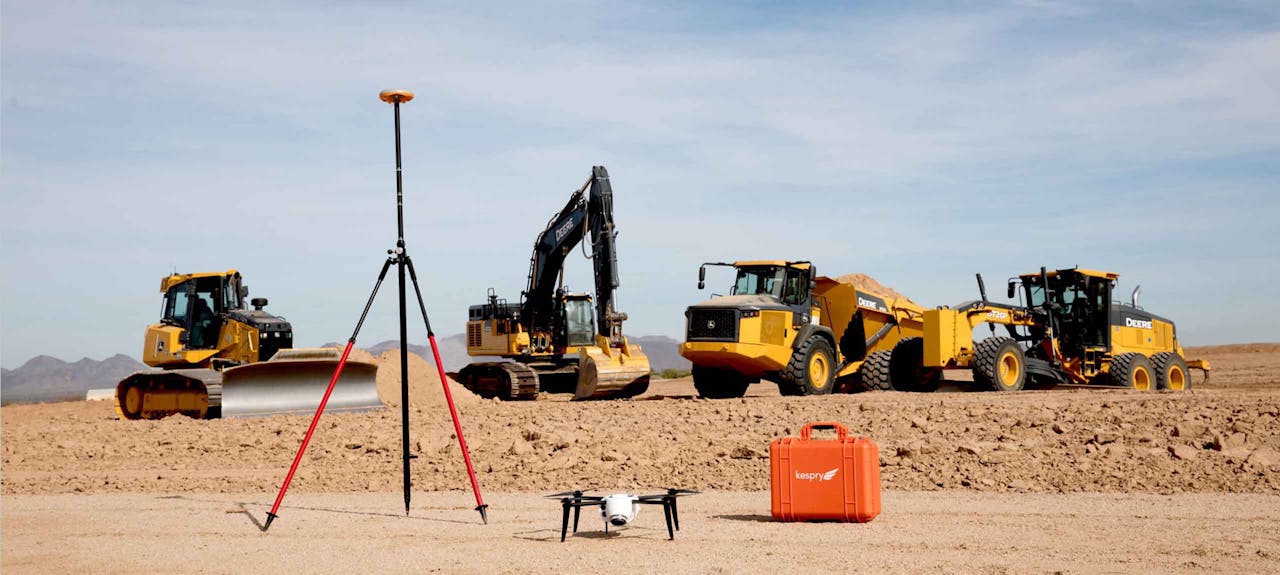 As recently as 2016, the hardware capabilities of Kespry's autonomous, cloud-based drone service made the platform best suited to mining and aggregates customers wanting an easier way to perform inventories or plan haul roads. But improvements made to the company's drones—the latest of which is the Kespry 2S—have greatly improved the accuracy of its surveying capabilities. And when coupled with three major new data processing features for the Kespry Cloud, the platform is now a much more viable and, in many cases, indispensable tool for construction companies, too.
Though Kespry is working continuously on bringing improvements and updates to the platform, the service's core strengths remain ease of use and the tight integration between the drone hardware and the cloud-based data processing software.
For Kespry's construction customers, the days of having to put in a work order or call a surveyor are over, explained Kespry product marketing manager Jason Nichols, during an interview at the World of Concrete show last week in Las Vegas. In as little as a few hours, a project manager can create a flight plan, launch the drone and have images and survey data accurate to within a few centimeters.
"For us, it's all about putting contractors in charge of their own destiny," Nichols said.
The new Kespry Cloud features are aimed at making the company's data software more powerful, allowing contractors to upload site plans, remove equipment from topographic models and volumetric data, and view automatically generated elevation profiles.
Design plan import and real time cross section elevation profiles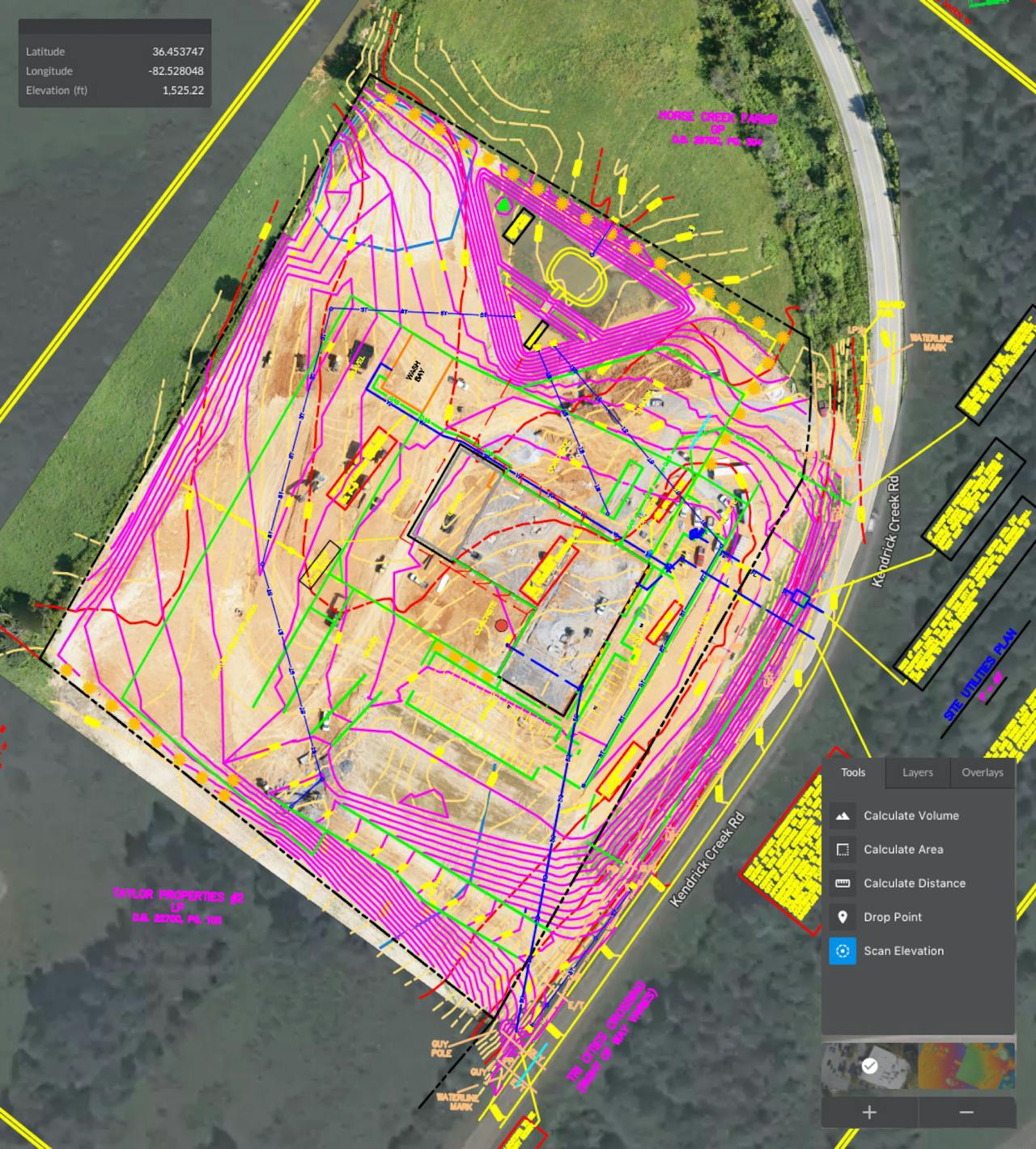 In the past, Kespry customers haven't been able to compare flight data to actual digital surface plans. Instead, Kespry users would upload a vector PDF of a site plan that would be overlaid and aligned to flight data using georeferencing points, Nichols explained.
"Now, be it DWG, or CAD or a GIS surface file, whatever they want to upload they can now upload it and they can start comparing surfaces to that particular design file," Nichols says, noting that the PDF upload is still an option.
Which brings us to the second new Kespry Cloud feature, the Cross Section tool.
Once the Kespry Cloud has finished processing data from a drone flight, it now tracks a project's progress toward the surface file through both line graphs that update as you click, and the ability to interact with the site plan and select cross sections for comparison.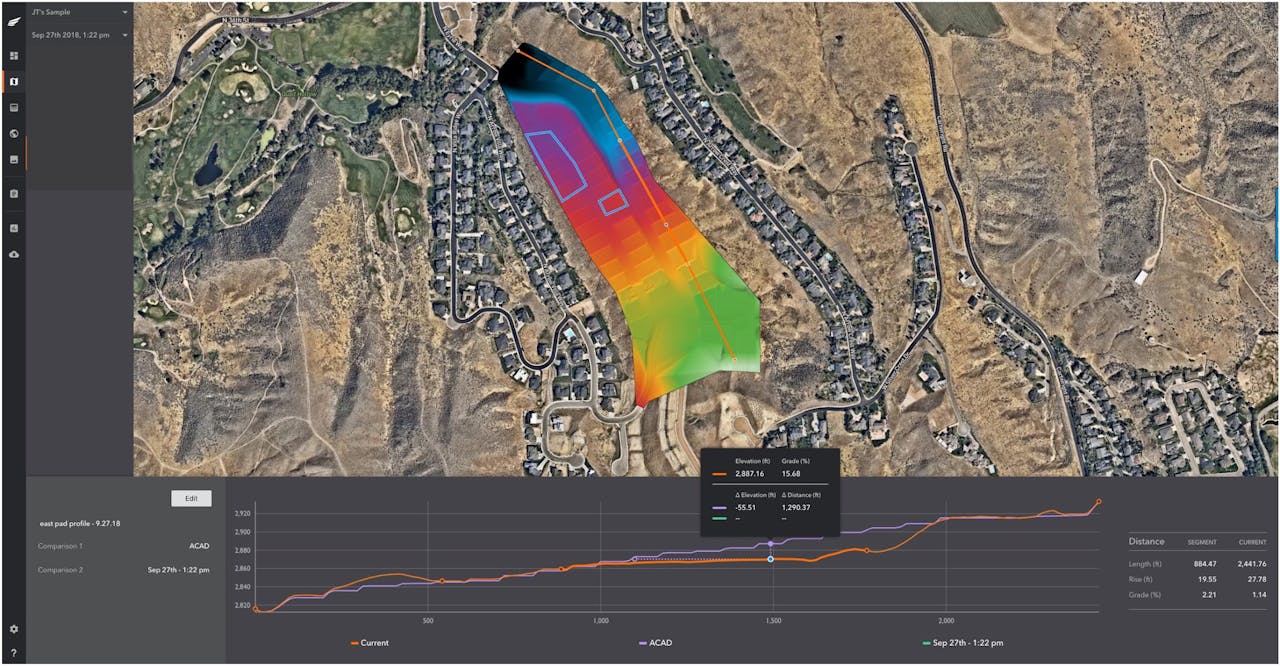 In the demonstration of this tool that Nichols showed me, upon selecting a cross section of the site plan for a subdivision, the browser-based software calculated the cut and fill for a single building pad.
"We have a net cut and fill but if you want to look at individual volumetric measurements, you can," Nichols says.
Thanks to Kespry's tight integration of accurate, autonomous drone hardware and all-in-one data processing, the new cross section comparison tool and elevation profiles are already making the lives of project managers easier, Nichols says.
"With this platform, I don't have to go and put a work order in and give our surveyor a call when he's stacked up with other work just to go get a few points on this building pad. I'll just go fly the drone myself and with a few clicks…" critical questions are answered, he says.
Quick removal of equipment from topographic models
The final new feature Kespry is rolling out to its cloud platform is feature extraction. Using machine learning, Kespry Cloud can now automatically remove heavy equipment from the topographic models and volumetric data it generates.
The feature is easily enabled and disabled via a dropdown menu.
"Before, you'd need to involve one of the surveyors or the CAD folks on your team and they'd have to take this data out and bring it into third party software to extract it out. Now the data is clean and they can actually do a lot more with the data in the cloud environment," Nichols says.
"With the Kespry Feature Extraction tool, we're able to calculate volumes with higher confidence and produce cleaner, more accurate volume reports," Ethan Gassman, a superintendent at Turner Contracting, says in a statement. "Now, our team can directly download feature-extracted digital surface model data to update grading and mine plans quickly. We're saving lots of time by not having to manually trim or clean up our datasets."