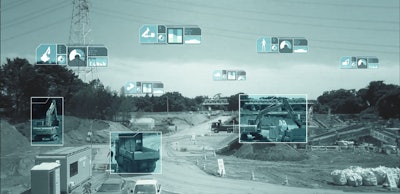 Komatsu wants to bring artificial intelligence to construction sites to boost safety and productivity and it's working with a company primarily known for video games to do it.
Komatsu and graphics processing unit (GPU) manufacturer NVIDIA have announced a partnership to develop construction AI solutions for the jobsite by deploying intelligent cameras. On these jobsites, NVIDIA's Jetson AI platform "will serve as the brain of heavy machinery."
The two companies say AI can go a long way in addressing the "safety risks and inefficiencies" in construction. The hope is that data-gathering cameras on heavy equipment, drones and elsewhere throughout the jobsite will make operators better informed, more aware of their surroundings and more efficient.
The technology could potentially decrease struck-by deaths in construction. These fatalities, which result from workers being struck by an object, piece of equipment or vehicle, have risen 34 percent in the U.S. since 2010.
"Artificial intelligence is sweeping across industries, and its next frontier is autonomous intelligent machines," NVIDIA founder and CEO Jensen Huang said, speaking at GTC Japan, NVIDIA's final of seven global GPU Technology Conferences this year. "Future machines will perceive their surroundings and be continuously alert, helping operators work more efficiently and safely. The construction and mining industries will benefit greatly from these advances."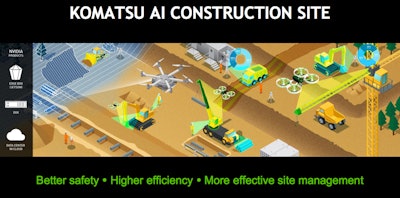 Komatsu is deploying the AI project as an extension of its SmartConstruction initiative. This is not to be confused with its Smart Construction service here in the U.S. which is, as we reported at its launch last year, "basically a one-stop service to bolster the company's intelligent Machine Control lineup, offering comprehensive training and support for anything and everything related to GPS/GNSS earthmoving operations."
In Japan, SmartConstruction is a drone-assisted, automated equipment service launched to alleviate the burden of the country's severe shortage of skilled workers. SmartConstruction combines Komatsu's intelligent Machine Control with jobsite surveys provided by drones and 3D laser scanners with the goal of automating pre-foundation work.
Komatsu has deployed SmartConstruction at than 4,000 jobsites across Japan. Komatsu chief technology officer Yuichi Iwamoto says the AI extension will start with integrating NVIDIA's GPUs into those sites.
While the central processing unit (CPU) acts as the brain of a computer, a GPU can take on more intense parts of an application or game. The CPU and GPU in a computer work in concert with one another in order to accelerate performance.
Here's NVIDIA's explanation of why a GPU is such an important component: "A CPU consists of a few cores optimized for sequential serial processing while a GPU has a massively parallel architecture consisting of thousands of smaller, more efficient cores designed for handling multiple tasks simultaneously."
According to a press release, the GPUs on SmartConstruction sites will "communicate with drones and cameras…acting as an AI platform for analysis and visualization. SkyCatch will provide drones to gather and map 3D images for visualizing the terrain at the edge. OPTiM, an IoT management-software company, will provide an application to identify individuals and machinery collected from surveillance cameras."
In addition, NVIDIA's Jetson, a credit-card sized AI platform will work "in tandem with NVIDIA cloud technology [to] power cameras mounted on Komatsu's construction equipment and enable 360-degree views to readily identify people and machines nearby to prevent collisions and other accidents," the release says.
Based on a bit of information near the end of the release, the AI technology will be used at first with operators driving the equipment with the aim of eventually harnessing the technology in order to allow autonomous control of the machines. Cameras will be mounted in the cabs of the heavy equipment "to help assess rapidly changing conditions in real time and instruct the driver accordingly."
Komatsu says the goal of the technology is to create "3D visualizations of construction sites, showing the real-time interaction of people, machinery and objects. Costly onsite equipment can be closely monitored to ensure it is used with optimal efficiency."