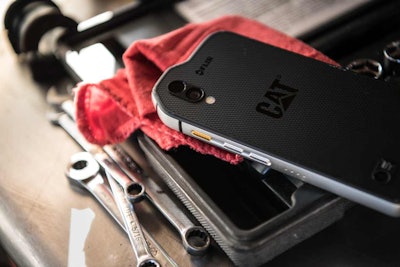 Cat has introduced an updated model of its excellent thermal imaging smartphone that boasts a better camera and a few new construction-centric features.
Like the previous generation S60, the new Cat S61's standout feature is its integrated FLIR thermal imaging camera. With the S61 Cat has improved the image quality of the FLIR camera to now provide high definition detail, an extended temperature range all the way up to 752 degrees Fahrenheit (400 Celsius) and software improvements for better image contrast.
The design firm behind Cat Phones, UK-based Bullitt Group, says that 60 percent of S60 users use the phone's thermal camera at least once per week. Cat and Bullitt say the S61 camera upgrades should increase that usage and will be particularly useful to equipment technicians and operators and those working on road crews.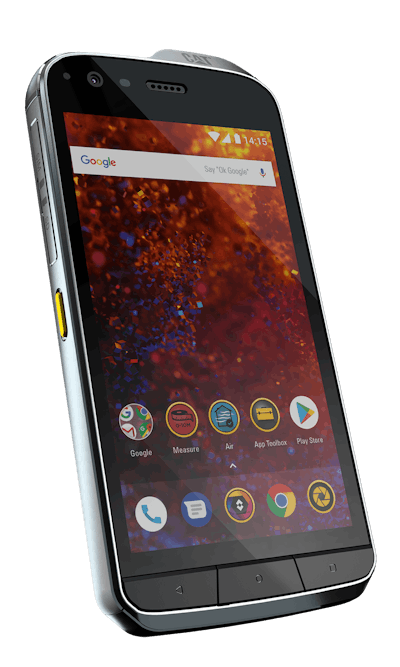 The company says the thermal imaging provided by the S61 is capable enough for asphalt monitoring, high temperature equipment monitoring and vehicle diagnostics. These new uses are in addition to more traditional residential construction and inspection use cases like detecting heat loss around windows and doors, spotting moisture and missing insulation and identifying overheating electrical appliances and overloaded circuitry. The camera also allows you to see in complete darkness and through fog or smoke.
Should the need arise, the S61 will also allow you to live stream your thermal imaging footage through the MyFLIR application installed on the phone.
New air sensor and laser measuring
Apart from the camera upgrades, another new S61 feature is an indoor air quality sensor. The Sensirion sensor can work in the background on the phone and alert workers when their working environment has high levels of indoor air pollutants (Volatile Organic Compounds or VOCs). Sources of VOCs can include paints, solvents, carpets, furniture and cleaning products. The sensor also provides humidity and temperature readings.
The final new feature is laser distance measuring. Cat says the laser system on the S61 can measure point-to-point distances up to 10 meters (32.8 feet), calculate area and switch between Metric and Imperial measurements. These measurements are provided through the camera and the resulting data is saved within the image, allowing you to revisit measurements without returning to a jobsite.
Other features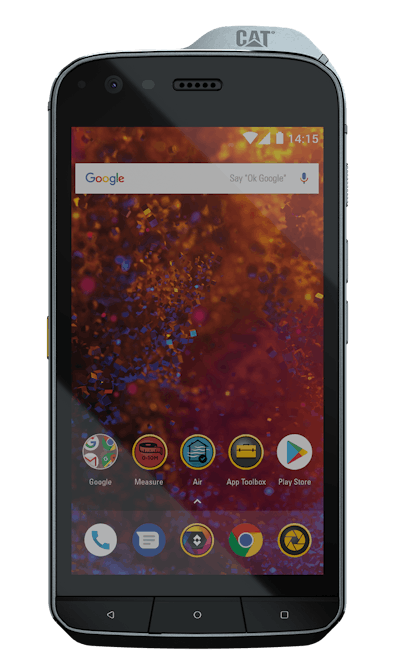 The Cat S61 runs on Android Oreo with a promised upgrade to the next version of the OS when it arrives. It features a 5.2-inch 1080p display with a high brightness level optimized for outdoor use. The ruggedized phone has a MIL Spec 810G rating and is able to withstand drops to concrete from up to 6 feet. The phone also has an IP68 rating, making it dustproof and waterproof in up to 9.8 feet of water for up to 1 hour.
The phone will provide a ton of battery life thanks to a huge 4500 mAh capacity battery with QuickCharge compatibility.
The S61 also features upgraded internals with 4GB of RAM over the previous generation S60's 3GB, and an eight-core 2.2 GHz processor.
A 16MP rear camera handles all non-thermal-imaging duties and can shoot 4K video. An 8MP camera handles selfie duties on the front of the device.
U.S. pricing information is not yet available. However, in the UK the S61 will retail for £799.00 which converts to roughly $1,100. The phone will start shipping in the second quarter of 2018.