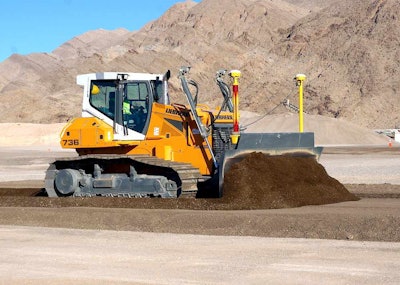 An estimated 5.1 million jobs are expected to be lost in the next five years due to advances in technology, specifically those in artificial intelligence, machine-learning, 3D printing and robotics, according to a report from the World Economic Forum.
Of those job losses, construction and extraction are anticipated to account for nearly 10 percent.
The findings are based on a survey of HR and strategic executives at 371 companies around the globe.
Though the vast majority of the total job losses are expected to be in the office and administrative job sector (4.76 million) manufacturing and production (1.61 million) and cosntruction and extraction (497,000) round out the top three.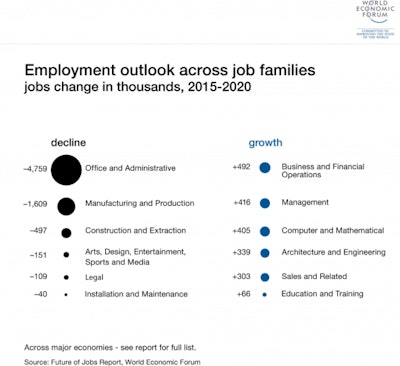 For the last few years the U.S. construction industry has been grappling with a shortage of skilled workers. The lack of ability has led to numerous delays as firms struggle to keep up with a growing list of projects.
According to the WEF report's executive summary, "Even jobs that will shrink in number are simultaneously undergoing change in the skill sets required to do them. Across nearly all industries, the impact of technological and other changes is shortening the shelf-life of employees' existing skill sets."
That certainly appears to be true in the construction industry as the, albeit limited, adoption of technologies like GPS, machine control and automation could nullify many of those skills contractors are currently so desperately seeking.
However, the report notes "technological disruptions such as robotics and machine learning—rather than completely replacing existing occupations and job categories—are likely to substitute specific tasks previously carried out as part of these jobs, freeing workers up to focus on new tasks and leading to rapidly changing core skill sets in these occupations."
That could be the case in construction with operators transitioning from working inside the machine to a command center where they oversee the operation of multiple machines with the help of telematics, automation and drone monitoring. And all of that requires the development of new jobs and skill sets within the industry.
Another bright spot in the report for the construction industry is that these technological advances are anticipated to generate an additional 339,000 new jobs in architecture and engineering.
In terms of recommendations to avoid significant job losses, the WEF says the severity of those losses is largely in the hands of employers. And its advice is certainly something more construction firms would do well to heed, as it would not only prepare the industry for the disruption of automation, but also increase the number of skilled workers available today.
"During previous industrial revolutions, it often took decades to build the training systems and labour market institutions needed to develop major new skill sets on a large scale. Given the upcoming pace and scale of disruption brought about by the Fourth Industrial Revolution, however, this is simply not be an option," the report reads. "Without targeted action today to manage the near-term transition and build a workforce with futureproof skills, governments will have to cope with ever-growing unemployment and inequality, and businesses with a shrinking consumer base.
"… For a talent revolution to take place, governments and businesses will need to profoundly change their approach to education, skills and employment, and their approach to working with each other. Businesses will need to put talent development and future workforce strategy front and centre to their growth. Firms can no longer be passive consumers of ready-made human capital. They require a new mindset to meet their talent needs and to optimize social outcomes."
You can read the full report here.