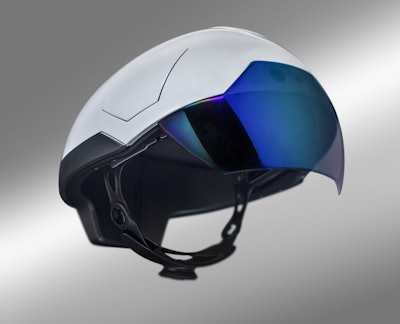 Weeks after announcing a collaboration with Topcon in order to integrate the device with that company's positioning solutions, augmented reality company Daqri has revealed the next generation of its Smart Helmet.
Maybe the most notable difference with the design of this new Smart Helmet, a hard hat with a "4D" visor that overlays data and media directly into a worker's field of vision, is the blue anti-reflective coating on the visor itself.
But inside, the new version boasts a new processor making possible new capabilities over its predecessor.
The helmet is powered by a sixth-generation Intel Core m7 processor giving the device five times the processing power of the original. The new helmet also includes Intel's RealSense technology giving it improved depth sensing capability.
That depth-sensing improvement is a big deal for a device of this type. Designed specifically for construction, manufacturing and other industrial uses, the Smart Helmet uses a combination of sensors and cameras to analyze and detect objects and other context from a worker's surroundings and displays data based on what it sees.
Further features include:
Thermal vision sensors for predictive maintenance and enhanced worker safety
Live equipment data visualization
Integration with DAQRI 4D Studio augmented work instruction platform
Daqri says the Smart Helmet has been in the pilot phase with Fortune 100 partners across industries including aerospace, construction and oil and gas, and will be available for purchase by the end of Q1 2016.