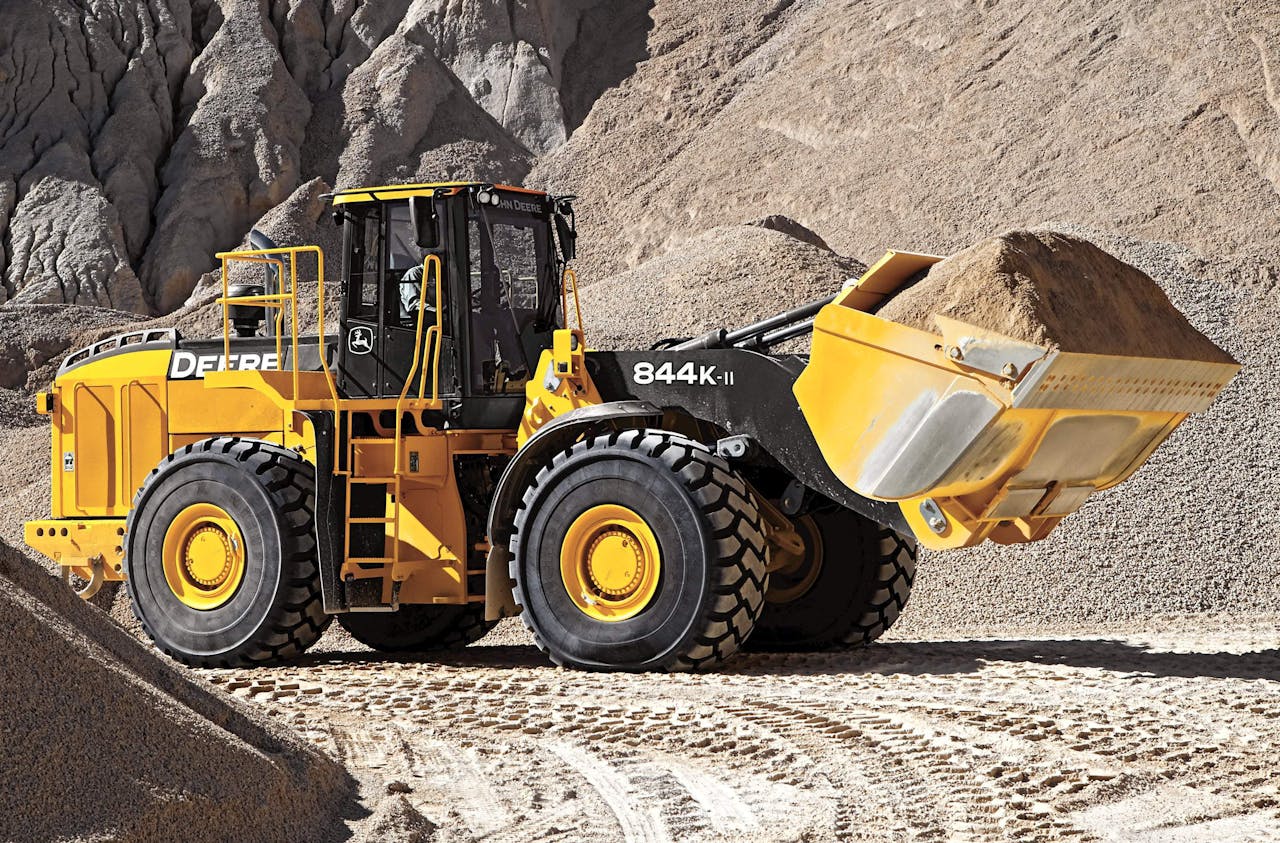 John Deere has joined the fuel guarantee fray, with a WorkSight Fuel Advantage program that takes direct aim at the Cat Pays You Back program. "We've set aggressive fuel targets that are 10 percent lower than Caterpillar," says Mark Favetti, Deere global tactical marketing manager.
Deere says it will also offer North American customers registered with the program a $100 fuel card following a consultation with a Deere dealer over reports coming out of the program. Enrolled machines will earn $1 (or $1 Canadian) per gallon/liter above target if the machine's average annual fuel consumption exceeds the program's target fuel consumption level.
How it works
After purchasing or leasing one of 47 different Deere models between Nov. 2, 2015 and Aug. 31, 2016, customers are invited to register the machine on the Fuel Advantage website. (Also included: 23 Hitachi excavators ranging from 13 to 87 metric tons purchased between Dec. 1, 2015 and Aug. 31, 2016.) Designated Deere wheel loaders, articulated haulers, dozers, excavators and graders are included in the program.
Each quarter, using data from the on-board JDLink machine monitoring system, Deere will send a registered user a report that details how the machine stacks up against national targets in four key areas: fuel economy, idle time, percentage of fuel burned at idle and percentage of engine load utilization. Along with the numbers, the report will give recommendations on how to either sustain or improve those numbers.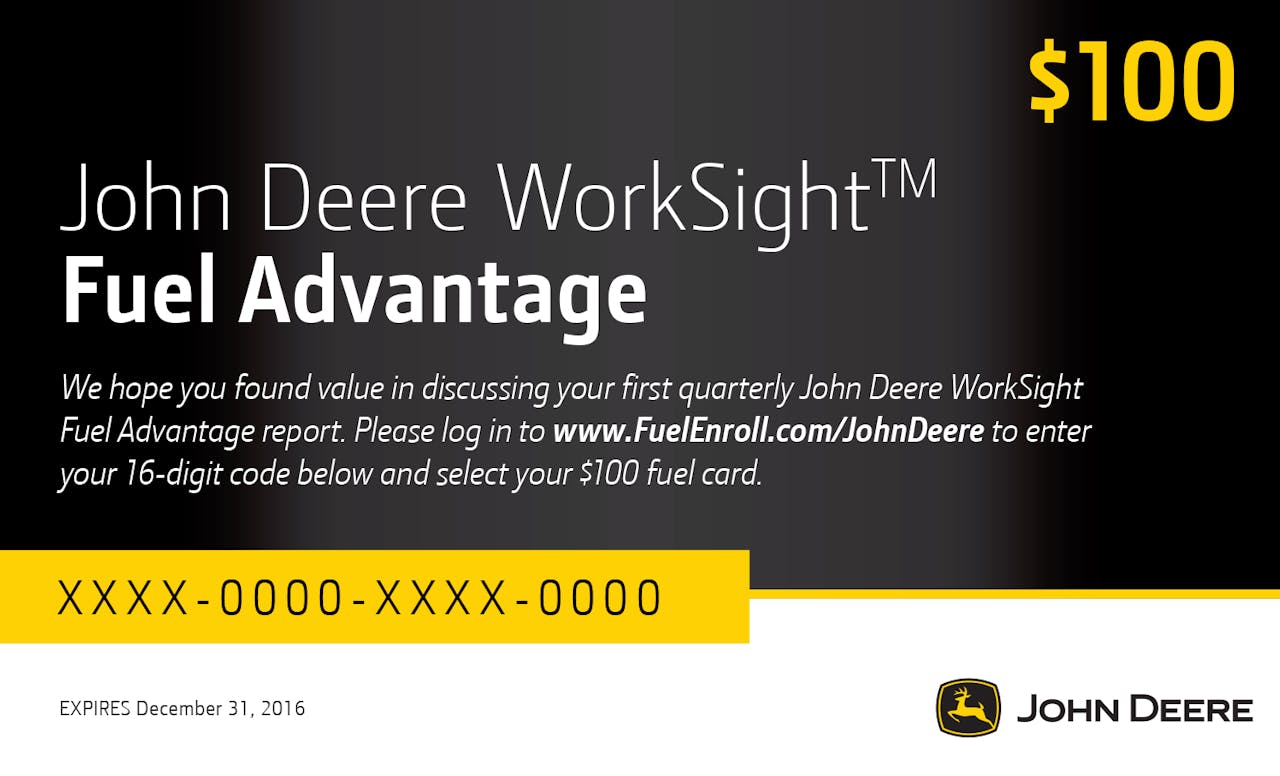 The registered user's dealer receives the same report. If the customer meets with his dealer to sort through the information within 60 days of receiving the first report, he will receive a one-time $100 fuel card. "We want to foster a relationship with our dealers, and encourage customers to have in-depth conversations with them about these reports, and we're willing to invest in that conversation," says Favetti.
Deere says it has prepared its dealers for these meetings, installing "tech champions" at each dealership. Liz Quinn, product marketing manager for John Deere WorkSight calls the program a "win-win," providing customers "confidence and peace of mind with their fuel efficiency."
The program will run for three years or 5,000 hours for buyers within the time frame who register before the August cutoff. For the duration of the program, Deere says it will use the on-board JDLink telematics to measure each enrolled machine against benchmarks every October, and issue a Visa card for dealer purchases if a customer is eligible for payment.
While it will "continually re-evaluate the data," Favetti says Deere is confident in the national fuel guarantee levels it has set. While recognizing fuel use can vary greatly between geographical regions, the material being worked and operator skill, Deere says it chose to set a national average for each machine. "Everyone gets the same target commitment," he says, regardless of machine application or geographic location.
In November, Cat announced that it would extend its fuel guarantee program that it debuted in May. Cat is obviously pleased with results, saying that more than 15 percent of the new machine buyers enrolling in the program were new to Caterpillar. Volvo Construction Equipment first offered its own fuel efficiency guarantee program in 2010, which initially involved four large wheel loader models. It later extended it to include excavators and artics, and this year is paying $.75 cents to $1.50 cents per gallon if a machine does not reach target fuel efficiency levels.