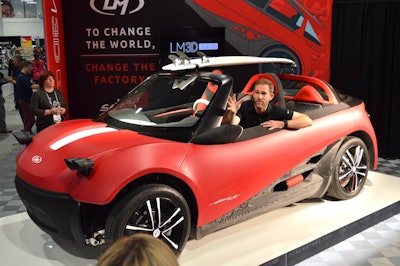 One of the most atypical things we saw this year at the SEMA show (Specialty Equipment Market Association) was a prototype of a 3D printed car from the company Local Motors.
It's a cute little two-seater that looks a lot like a Mazda Miata, but don't think for a minute that this is just a novelty. Local Motors, according to its chief financial officer Jean Gally, has establish factories in Chandler, Arizona, Knoxville, Tennessee, and will start building one in Washington D.C. in in December.
The plan is to have DOT-approved, 3D-printed Local Motor cars for sale to the public by 2017, says Gally. Eventually, the company hopes to have five factories turning out 2,400 to 3,000 cars every year. The cars will be all-electric drive and cost between $30,000 and $50,000.
How it works
3D printing works a lot like a CNC machine only it deposits material, in this case thermoplastics, instead of cutting it away. See the Local Motors manufacturing video below.
People in the 3D printing world call this "additive" manufacturing, meaning you start with nothing and deposit layer after layer of material using a computer guided head on a track. By contrast, traditional manufacturing is what they call a "subtractive" process.
This means you start with something oversized and rough, and then cut, grind, pound, drill and fasten it into shape. This takes a lot of energy, a lot of people, and it leaves a lot of waste material behind. Plus much of it is done outside the main factory and the parts are shipped to an assembly factory incurring transportation and inventory costs.
With additive manufacturing there are no wasted materials and complex internal gussets and structural elements that would be impossible to execute in steel or aluminum can be created with little more effort than drawing a CAD file. See the Local Motors styles video below.
Body on skateboard
Of course a car can't be all plastic. It needs the strength of steel to anchor the wheels, brakes, engine and axles. Gally says the Local Motors printed thermoplastic body sits on top of a structural "skateboard," if you will. The skateboard contains the underside of the vehicle and ties together these subsystems with steel and aluminum reinforced elements.
"The car is about 80 percent thermoplastic," says Gally. "We are still sorting out if there needs to be some reinforcement with traditional metal structures for side impact," he says.
"We're experimenting with different types of polymers, different concentrations of carbon fiber and thermoplastic for specific qualities," Gally says. "We're also printing out elastomers for different pieces of the body like bumpers and side skirts.
The thermoplastic materials are impact resistant and can usually be bent back out when they're dented.
Why this matters to you
3D printed cars may take a while to catch on, but Local Motors is on the forefront of some big changes that are shaping the future of transportation. The cars, when they make their debut, will have significant levels of digital connectivity and will sync their GPS and telematics to the cloud with a system the company is developing with IBM.
From there it is only a short technological step up to producing a fully autonomous vehicle. Local Motors is already working on autonomous vehicle projects with a partner in Germany.
Obviously, the Local Motors designs are lightweight. Trucks designed to carry or tow heavy loads will continue to be built, sold and be driven the way they always have.
The main reason you should be paying attention to 3D manufacturing is that it's already being used in the construction market. There are prototypes homes today being built by Clayton Homes. See the video here:
And be sure to check out this short video on an experiment to build a bridge in Amsterdam using 3D printing machines to "manufacture" cables in midair.
Or this 3D printed mini-castle:
Or this video on 3D printed homes: