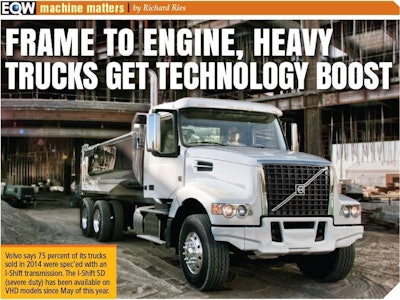 Technology isn't just electrons and algorithms. It's metallurgy and frame rails and a host of other details. Truck manufacturers use these tools to develop, produce and service what they sell.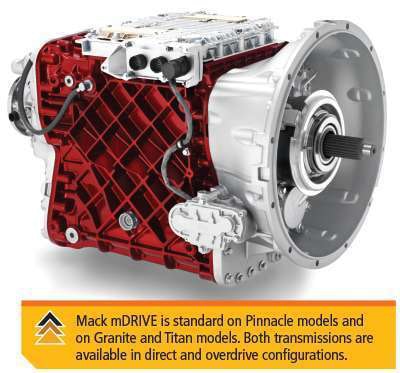 Some techniques for improving fuel efficiency in line-haul trucking don't carry over well to vocational applications. Skirts and other aerodynamic features don't help much on a gooseneck trailer with an excavator on top or even on a dump truck.
But sophisticated transmissions and advanced electronics that integrate transmission functions with the engine, brakes, cruise control, and GPS do work well in vocational trucks—as long as they're robust enough to handle the demands of vocational use.
Transmissions in transition
The DT12 automated manual transmission in Daimler trucks (Freightliner, Western Star), for example, has several features to improve fuel economy. Daimler's Intelligent Power Management (IPM) uses the truck's GPS location and a computerized terrain map to plan engine and transmission functions more than a mile ahead. This allows the truck to maintain the most efficient momentum in rolling terrain. On downgrades and other off-throttle conditions, eCoast allows the engine to idle.
The DT12 also has features to improve the driver's experience and reduce fatigue. Creep mode helps low-speed maneuverability; from a standstill it modulates the clutch for smoother take-off and the driver needs only to feather the brake and accelerator to control speed. At the top of its three position setting the engine brake will adjust its aggressiveness automatically to match the cruise speed to the driver's situation, downshifting if necessary. "Drivers like how the smooth operation and intelligent controls enhance the driving experience," says Kelly Gedert, manager of powertrain marketing for Daimler Trucks North America.
Mack's mDRIVE automated manual transmission has two notable features; the Super Econodyne powertrain package and Load Logic. Both improve fuel economy. Super Econodyne relies on the integration of the transmission and Mack MP engine to reduce engine speed at cruising speeds. Load Logic reads information from the truck's rear suspension. When a full load is indicated, Load Logic locks out the top gear to deliver better performance. When empty, the top gear can be used once again, improving fuel efficiency.
"Outside of continuing improvements to the mDRIVE's software, there have also been revisions to its hardware to improve performance and reliability," says Stu Rossoli, Mack highway and powertrain products marketing manager. The oil cooler on mDRIVE transmissions was moved to the side of the gearbox for more consistent temperature management. Internal changes improve efficiency and oil flow. The mDRIVE HD has hardened gears and reinforced synchronizers and main clutch dog to meet the demands of vocational and heavy-haul applications.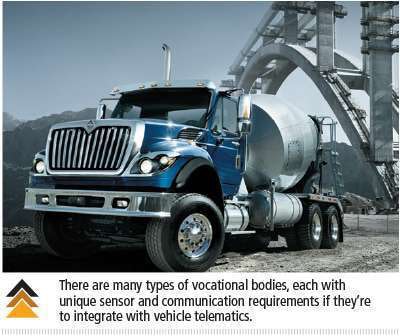 This year Volvo began offering a severe-duty version of their transmission to match the demands of vocational applications. The Volvo I-Shift automated manual has hardened gears, improved split synchronizer components, and main box parts made from reinforced materials. I-Shift SD transmissions require higher-viscosity oil; the oil cooler has been moved to the transmission.
The I-Shift transmission is used on Volvo's VNX tridem tractor. Running three rear drive axles instead of two improves traction in steep terrain and in ice, mud, and other common jobsite conditions. The tridem can easily manage rear axle loads of up to 69,000 pounds. VNX tractors come with a D16 engine that can be configured for up to 600 horsepower and 2,050 pound-feet of torque.
"The package of the I-Shift transmission, D16 engine, and tridem rear axles provides for easier transportation of heavy-haul loads," says Gran Nyberg, president of Volvo Trucks North America, "especially in the difficult conditions often encountered on construction sites."
Getting data off the truck body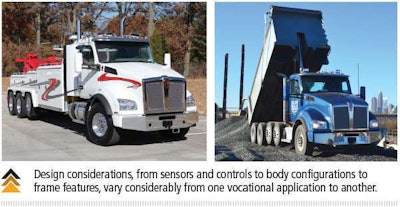 Truck manufacturers took an early lead in the adoption of telematics, but there are still truck-specific telematics challenges.
Telematics data from the front of trucks can be standardized; the back of the truck is a different story. What comes from a dump truck is different from what comes from a mixer. On top of that is the need to have truck telematics integrated with equipment telematics so that information from a jobsite can be managed together.
Acceptance and use of telematics has been slower in construction than in trucking, but it is growing. Customers who use telematics have high expectations for them and see them as instrumental in managing their businesses and protecting their profitability.
Open source
To provide the flexibility necessary to meet all these concerns, International created their OnCommand Connection as an open source, SAS (software as a service) telematics application.

They have 15 provider partners that manage the actual data transmission covering 90 percent of the market. OnCommand Connection is a standard, no-charge feature on all new International trucks.
International feels that open-source design is essential. While body control module logic is currently available through the CAN bus, data types and fault codes vary by body type and even by body builder and are not fully developed, much less standardized. It's not just error codes that are needed, but also root cause, severity, and repair plan information.
"For now International is working on a customer-by-customer basis," says Mike Cerilli, vice president and general manager of the company's Connected Vehicle Division. "The long-term goal is to integrate each vehicle with all the equipment on a site for improved jobsite management."
Fighting for space
Then there's the battle for space. To provide the performance and serviceability expected by truck owners, body builders have to put components in specific places. Current emissions components, such as aftertreatment systems and diesel exhaust fluid (DEF) tanks, take up space that body builders want to use for hardware, hydraulics, controls, and electronics.
Truck OEMs work out specifics with body builders, but they also make some general provisions to facilitate the installation of vocational bodies. "Today many of our customers are challenged by working around the necessary emissions equipment we've added over the last several EPA emission cycle updates," says Kurt Swihart, Kenworth marketing director. "We've done a nice job in packaging components but the new medium duty frame packaging options continue to push for more frame space for our customers."
Kenworth offers 45- and 70-gallon rectangular fuel tanks mounted between the frame rails and behind the rear axle. Filler necks can be positioned as required to clear body installations and the tanks can be equipped with auxiliary supply tubes for running diesel-powered accessories such as generators and compressors.
Another option from Kenworth is a battery box that's 6 inches narrower than the standard box. The smaller box still accommodates two or three batteries so there's no loss of battery capacity.
With the smaller battery box, the DEF tank goes under the cab and the air tanks go to the back of the cab. A matching narrow tool box is available for the right side of the T270 and T370. With that tool box the fuel tank can be moved forward and the DEF tank mounted behind the tool box. Battery capacity plus access to the batteries and tools are retained while opening up space for body builders to use.
Spec packages
While these space-saving options can be ordered individually, Kenworth says spec'ing the whole package opens up the most space and makes it much easier to install vocational bodies. Specific adaptations can be ordered, as well. These include custom frame layouts with holes punched where needed, frame crossmembers of specific design and placement, and body builder wiring harnesses. The benefit is that the truck owner gets a vehicle designed and built as one cohesive piece, not something cobbled together as an afterthought with components shoehorned into impossible spaces.
Customization extends to the interior where seats, storage options, dash switches and center consoles can be configured to accommodate body controls. But before customization comes standard configuration, and one of the key considerations is space.
"A cab should accommodate not only the driver but also the personal equipment used by the driver on a given job," says Kevin Baney, Kenworth chief engineer. "This can include work boots, hard hats, gloves, heavy clothes, and tools." Baney says the three most productive ways to gain space are to increase the length and width of the cab, elimination of clutter and protrusions on the floor, and optimizing the seating position.
Keeping up with maintenance technology
One impact of technology: truck owners have to decide which maintenance and repair tasks they'll tackle and which they'll turn over to dealerships and repair centers. Part of the challenge is staying current with tools and equipment, but a bigger issue is staying knowledgeable and proficient.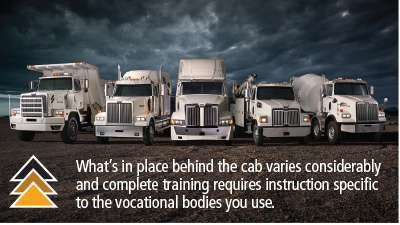 Peterbilt offers classes for both dealership and customer technicians. One goal is to ensure that everybody leaves with the same knowledge. That said, Peterbilt will also tailor classes to match the needs, interests, and existing skill levels of customer techs.
Training is available in hands-on classroom settings as well as self-learning modules and online coursework. Costs vary but can be as low as $100 per participant.
"We tailor the curriculum and the way it is presented to meet the unique needs of the audience," says Gregg Jaglinski, Peterbilt manager of dealer training. "That means taking into account the current knowledge level of the participants, the types of equipment they are running, geographic considerations, and other factors.
Customers who turn to dealerships for service need assurance that the results will be satisfactory. The primary reason for subbing out service work is to gain access to tools and knowledge not present in the customer's organization.
Formal training programs are part of the Elite Support initiative available to Freightliner and Western Star dealerships. Those receiving certification must be re-certified annually. Requirements in addition to training include Express Assessment to provide preliminary diagnostics within two hours of the customer's arrival, a data-driven stocking system to ensure required parts are available when needed, and an on-site continuous improvement coordinator to facilitate ongoing improvements in customer experience and service operations.
"Elite Support Certified dealers also offer a comfortable environment for customers with amenities that help the customer stay productive when they are not on the road," says Scott Brown, director of distribution development with Daimler Trucks North America.