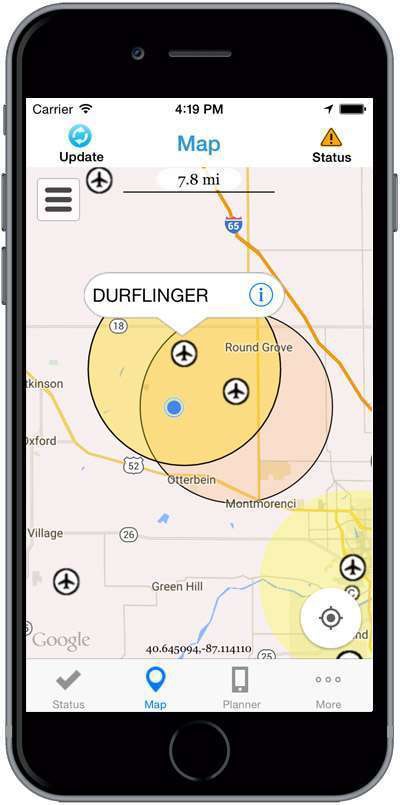 Last month the Federal Aviation Administration issued a warning to drone operators: for crying out loud, stop flying so close to airplanes.
Just a little more than halfway through the year, reports from pilots of planes and helicopters of drones drifting dangerously close into their airspace was up nearly 200 percent over the full 2014 total. But rather than just issuing warnings, the FAA has begun testing a new app it hopes will actively prevent these situations in the future.
Dubbed B4UFLY, the app plots an operator's location on a map and shows them if they are too close to an airport or other area restricted from unmanned aircraft flights, such as a national park.
"Many unmanned aircraft users today have little or no aviation experience, and some of them are flying where they could endanger manned aircraft," according to the FAA release. "B4UFLY will give these flyers the tools and knowledge they need to operate safely."
The app also features planning for future flights and in the future will allow operators who plan to fly within five miles of an airport to notify airport planners and air traffic control of their plans. They'll still need permission from those officials, but it definitely streamlines that process a bit.
Since the FAA is currently testing the app, it is only available on the iPhone and to about 1,000 beta testers at a time. You can sign up for the waiting list at by emailing b4ufly@faa.gov.