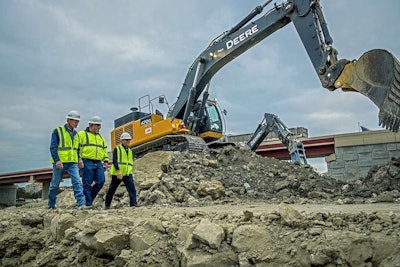 John Deere has announced an extension to the base subscription of its JDLink Ultimate telematics service from three to five years.
Director of Deere's WorkSight construction technology solutions group, Jena Holtberg-Benge said the extension came as a response to requests from production-scale customers.
"They work in high-volume, high-production situations, so they need their equipment to run longer and harder than ever — sometimes around the clock," Holtberg-Benge said. "These customers told us they have a different set of needs, and we listened."
JDLink telematics allows owners and fleet managers to remotely monitor equipment using any device with an Internet connection. The service providing alerts and allows customers to view machine location, utilization, performance and maintenance data.
JDLink is a telematics system designed to remotely connect owners and managers to their equipment, and to provide alerts and machine information including location, utilization, performance and maintenance data to manage where and how equipment is used.
Equipment covered in this extension includes the following machines:
Articulated Dump Trucks
250D-II
300D-II
370E
410E
460E
Dozers
Excavators
Wheel Loaders
744K-II
824K-II
844K-II
944K