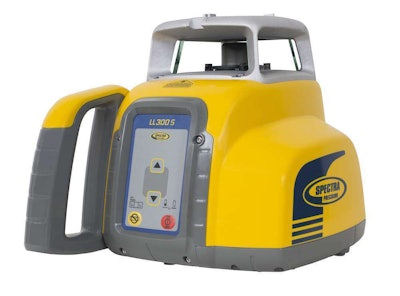 Sensitive electronics don't mix well with rough jobsite conditions, but the new generation Spectra Precision LL300S laser level was built to take just about anything you can throw at it.
With its composite material housing, a metal sunshade and a glass lighthouse, the LL300S withstands drops up to three feet, tripod tipovers of five feet and soaking rains.
Designed for general construction, concrete and site prep, elevation control, leveling forms and footings, excavation and basic slopes, the LL300S is fully automatic and self leveling. It is accurate to 1/16th inch at 100 feet and has a working range of 2,600 feet. Arrow buttons on the laser keypad offer easy grade matching in single-axis slope mode and a controlled slope setup using the hi-alert function.
If your rod man calls in sick for the day, you can configure the LL300S with an optional radio remote control for single-person operation. Additional options include a choice of receivers and accessories including a tripod and grade rod that fit in a system case.