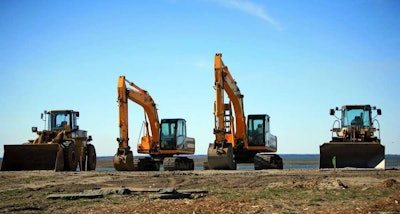 According to a survey released this morning by the Association of Equipment Manufacturers, U.S. construction companies are fairly optimistic about the near future as the majority say they plan to either increase or maintain current fleet and staff levels.
The survey was conducted by AEM earlier this year with more than 1,200 responses coming in. After culling through the responses, roughly 680 were counted toward the final totals. You can view slides of the results below.
According to the survey results, 40 percent of U.S. firms plan to increase their fleet size in the next 12 months with 29 percent planning on maintaining the current size. Forty-seven percent of respondents said they plan on buying to increase fleet size with 22 percent saying they'll do so through both buying and renting. Thirteen percent said they would primarily rent to increase fleet size.
Of those firms with less than 1,000 employees, between 40 and 43 percent said they plan on increasing their fleet size while 30 percent said they plan on maintaining their current fleet size. However, only 25 percent of companies with more than 1,000 employees said they plan on increasing the size of their fleets.
Among the 4 percent of respondents who said they plan on decreasing fleet size, 30 percent said they were doing so in order to shift their fleet mix toward owning, while 8 percent said they were shifting toward renting.
Nearly half of all respondents (49 percent) said they were planning on adding staff in the next two years, while 33 percent said they would maintain their current staffing level. Only 5 percent said they plan on reducing staff size.
And despite the many benefits and recent push toward standardization of telematics, the majority of respondents, 62 percent, said they have no plans to implement the technology anytime soon. Thirty-five percent of respondents said they won't be implementing telematics in the next five years while 27 percent said they won't be doing so in the next 18 months because they "don't know how to use it."
Twenty-two percent said they do understand telematics and will be putting it to work in the next 18 months while 15 percent said they were considering it based on information learned at ConExpo-Con/AGG.
On the subject of renting, 41 percent of respondents said they were not considering renting or leasing core equipment. Twenty percent said they were considering it while 18 percent said "maybe."