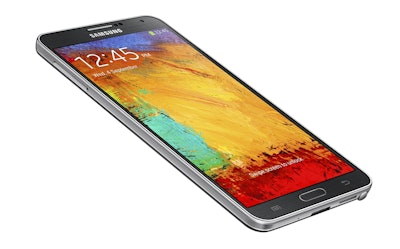 Make no bones about it: the Samsung Galaxy Note 3 is a giant phone. With a 5.7-inch display, it makes even 5-inch phones like the Nexus 5 look small, not to mention the iPhone 5S. And that's exactly what some folks like. And for some, like those who want to jot down information on their phones or like working with a big display on the job site, it's exactly what they need. If you're familiar with past Galaxy Notes, the Note 3 is thinner than ever, has a speedy processor and a whopping 3GB of RAM.
The Note 3 is a powerful phone and some of that shows with its new Multi Window mode which lets you open links and other apps like the calculator in a separate window while keeping the original app you were using on screen. The phone has a 13 megapixel camera and can take not only HD video, but 4K video. The only downside to the phone is Samsung's skinned version of Android called TouchWiz. The phone runs Android 4.3 with the TouchWiz interface on top. And while TouchWiz is necessary for certain elements of the phone, especially a lot of the handwriting features the Note has, it's still a slower experience than a device with an untouched version of Android like the Nexus 5.
In the end though, the Note is the king of big phones and no other device really comes close in being great for writing on.