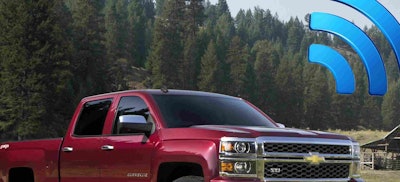 General Motors announced this week that its 2015 Chevrolet and GMC pickups will have the ability to connect to 4G LTE wireless data networks built-in.
The first carrier partnership announced by GM is with AT&T but the automaker says it will announce more carrier and supplier relationships in the coming months. The data connection is built into the trucks' electrical system and the trucks will have an external antenna to ensure a good connection.
LTE, short for Long Term Evolution, is 10 times faster than a 3G data connection and both AT&T and Verizon's networks have often been tested at download speeds between 20 and 30 megabits per second. That's faster than most home Internet connections.
GM says that a 4G LTE connection will allow its in-dash GPS navigation systems to now pull traffic updates in real-time from the cloud. The connection is also expected to allow customers to turn their pickups into Wi-Fi hotspots and stream video.
There aren't any details yet on what kind of monthly costs drivers who opt for this LTE connection will incur, but GM does mention that it will integrate with OnStar so the option might be an added tier to that service.